UniGroup Logistics

Scott Kluesner
Executive Vice President of Operations
UniGroup Logistics is the logistics partner customers rely on for their most complex supply chain challenges.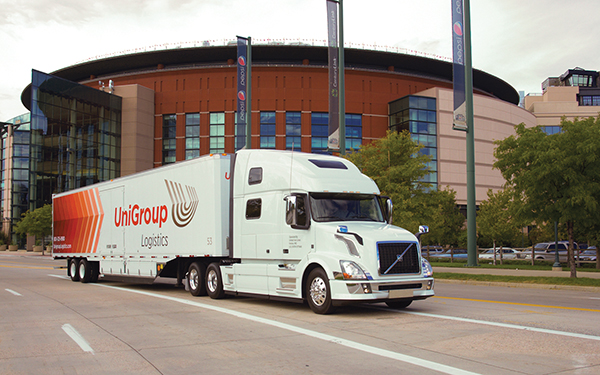 Expertise in High-Touch, End-to-End Supply Chain Solutions
Built on the heritage of Mayflower and United Van Lines, we leverage our company-owned assets to meet the needs of every type of customer.
Project Management
Through the UniGroup brands and driver-owned assets, UniGroup Logistics brands offer single-source supply chain management solutions, providing transportation, warehousing, freight forwarding and project management services tailored to fit the scope of your project. Through data-driven analysis and network design services, our supply chain engineers can help facilitate continuous supply chain efficiency and cost savings within your supply network. Additionally, our reverse logistics specialists can analyze your supply chain and design a reverse logistics solution to help you efficiently recycle raw goods and industrial salvage.
Final Mile Home Delivery
Are you ready to strengthen your supply chain and outpace the competition? Now more than ever, your customers expect a seamless buying journey. That's why we do more than just deliver. Your customers will appreciate the transparency of their shipping and delivery experience with our shipment tracking and order capabilities. With real-time status on all orders and summary billing reports, our user-friendly technology is just one more way we provide your customers with peace of mind.
Domestic Transportation and Shipping Solutions
Leveraging network and driver-owned assets we can provide shipping anywhere in the U.S. We offer Full Truckload (FTL), Less-Than-Truckload (LTL), Intermodal and Specialty Freight shipping options. Our transportation networks allow us to provide regional and long-haul transportation and arrange all of your local and intrastate transport needs.
International Transportation
We provide custom international freight solutions designed to fit your timetable while providing the quality of service you expect from a transportation leader. Let our air and ocean freight forwarding specialists help arrange a mode of transport that best fits your international shipping needs.
Customs Brokerage Services
Our experienced team of federally permitted customs brokers can help streamline your global trade, helping to ensure your shipments arrive on time and within regulation. From Importer Security Filings to customized trade solutions, we help expedite your shipments, keeping your supply chain moving forward.