Transporeon

Ed Moran
Managing Director and SVP Sales & Marketing
Mission Statement:
Transporeon provides logistics professionals with new ways to improve processes and significantly increase logistics efficiency and sustainability with an unsurpassed global network that creates an extensive ecosystem for shipper-carrier collaboration. By running ever-evolving logistics platforms, publishing unique industry insights and offering modular digital solutions, we enable shippers and carriers to engage at different levels of digital maturity and achieve continuous improvement.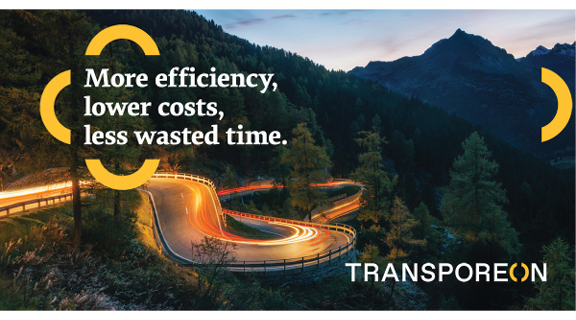 Transporeon cloud-based logistics platforms provide end-to-end transportation management software solutions—a full-service portfolio for shippers, suppliers, retailers, goods recipients and carriers that enables shared efficiencies for all logistics partners in the supply chain.
The company connects a worldwide network of more than 1,200 shippers and retailers with over 90,000 logistics service providers in 100+ countries in real time through its three transportation management platforms: Transporeon for shipment execution, Ticontract for transportation procurement and Mercareon for retail-specific dock scheduling.
These platforms for intelligent transport logistics create a digital connection between shippers and carriers to boost logistics performance and profitability with every freight load. By leveraging the latest capabilities, including artificial intelligence and predictive analytics, Transporeon solutions cut CO2 emissions, empty runs and truck waiting times while digitizing manual processes.
Delivering Connections
Global, security-certified Transporeon platforms optimize logistics processes with solutions that include:
Transportation Sourcing/RFP Management
Rate Management
Shipment Execution
Dock Scheduling
Tracking & Visibility
Connectivity & Integration
Market Intelligence
Transportation Sourcing
The Ticontract multimodal freight bid management platform accelerates your strategic sourcing process. A neutral sourcing technology specifically created to comprehensively analyze and optimize transportation bids, Ticontract can help you find the right logistics service providers and reduce administrative workload associated with the RFP process for greater market transparency, easily comparable offers and insightful reports at the click of a mouse. Simplify your bid communications with a fully customizable RFI/RFP platform, with integrated features for FTL, LTL, air and ocean.
Automated Shipment Execution
The Transporeon transportation management platform is purpose-built for supply chain communication and efficient, scalable freight assignment. Transporeon offers full connectivity to ERP and a complete range of transportation management functionality to help solve your daily logistics challenges. Cut transportation and administration costs by utilizing spot-market freight assignment for day-by-day capacity and demand matching in real-time to a closed pool of carriers, or fully automated freight assignment to automatically assign the freight order to a contract carrier based on pre-set criteria.
Modular Logistics Software and Agile Connectivity
With access to one of the world's largest and fastest-growing carrier networks, Transporeon provides you with connectivity and services for your carriers on top of your existing ERP or TMS system, in addition to onboarding, consultancy and lifetime multilingual support for both shippers and carriers. Transporeon Americas is based in Fort Washington, PA, with global locations across Europe, Russia and Asia.