Rakuten Super Logistics

Michael Manzione
President & CEO
Rakuten Super Logistics' (RSL) mission is to empower e-commerce retailers to compete with any online retailer in the world.
RSL guarantees 100% order fulfillment accuracy and next-day shipments, providing the reliability e-commerce retailers need to grow their business.
RSL works with e-commerce retailers to determine where product should be located in order to get the lowest shipping rates.
Since 2001, RSL has evolved alongside the online seller, but the values have remained constant. RSL remains committed to complete transparency in operations and with responsive U.S.-based in-house client support.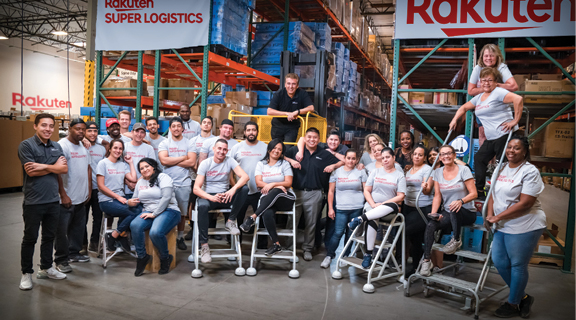 Rakuten Super Logistics (RSL) is committed to providing growing eCommerce retailers a scalable, cost-effective order fulfillment solution to meet the demands of today's online shopper. Founded in 2001 as Webgistix and acquired by Rakuten in 2013, RSL has a long history of eCommerce fulfillment experience. RSL currently operates a nationwide network of fulfillment centers across the United States. Each facility is strategically located near major U.S. ports and metropolitan areas, enabling retailers to reach 98% of U.S. customers within 1.5 days via ground shipping.
RSL simplifies the order fulfillment process for eCommerce retailers and empowers retailers with the tools and resources that allow them to focus on growing their business. SmartFill, RSL's cloud-based fulfillment management system, allows online retailers to manage their order fulfillment anytime, from anywhere, including their mobile device.
SmartFill offers seamless integration with popular shopping cart and order management platforms like Shopify, BigCommerce, and ShipStation. SmartFill also provides automatic order importing from marketplaces including Amazon, eBay, and Walmart Marketplace.
SmartFill's dashboard empowers retailers with real-time fulfillment data that is organized into charts, graphs, and reports that give clients visibility into their eCommerce order fulfillment operations. SmartFill simplifies billing, giving clients the ability to keep track of every fulfillment cost.
RSL also offers SmartFreight, an all-in-one, in-house freight brokerage service designed to provide the most efficient and economical transportation solutions to move and manage freight. SmartFreight's shipping solutions include domestic and international freight, customs consultation, and customs clearance. Additional SmartFreight features include door-to-door tracking and shipment optimization.
Clients can leverage RSL's partnerships with major shipping carriers, including UPS, FedEx, USPS, DHL, and FirstMile, to significantly lower shipping rates. In addition to lower shipping rates, utilizing RSL's nationwide network of order fulfillment centers allows clients to house their inventory closer to their customers—ensuring a faster shipping time.
RSL's combination of infrastructure and technology provides clients a hassle-free fulfillment experience backed by RSL's signature 100% order accuracy guarantee. RSL has an unwavering commitment to helping clients scale their business and is a true eCommerce partner.
With 20 years in the order fulfillment business and as part of the Rakuten family, Rakuten Super Logistics is an experienced eCommerce service provider backed by one of the largest and most successful eCommerce companies in the world.