Mainfreight

John Hepworth
CEO
"Across Mainfreight's global network our customer sits at the very center of our business. Striving to consistently improve our quality and service, we believe the best people to make decisions are those right on the spot. Every one of us has the autonomy to think like we own the business and make educated decisions quickly. Through being closer to our customers both geographically and in our decision making, we become a faster and more valuable business. Autonomous decision-making also creates a generation of decisive future leaders with a hands-on understanding of both our business and those of our customers."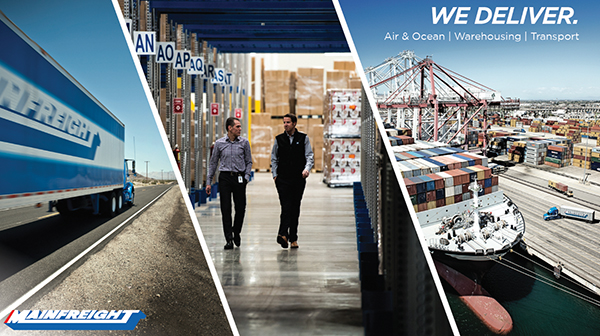 With a global footprint of over 260 branches in 24 countries, our extensive network looks to offer customized supply chain solutions for our customers. We aim to delight our customers by building strong partnerships and an understanding of their unique needs.
Backed by world-class technologies, our global business is built on two unshakable beliefs that we live by on any given day:
The only way to keep ahead of our competitors is by the superior performance of our people
The only measure of superior performance is how the customer perceives it
Transport
Whether you're sending goods next door, across the country or transborder to our neighbors, Mainfreight's comprehensive network lets us find the best match for time, cost and performance to meet your needs, by road, rail, sea or air. As a SmartWay Certified Carrier, we control your freight from door to door, ensuring a constantly high standard of service while being responsible to our environment. The EPA has recognized our dedicated linehaul and extensive branch network for its commitment to deliver to destinations in the US, Canada & Mexico utilizing commercially available fuel saving strategies and emission reduction technologies to help protect the communities we service today and improve air quality for future generations.
Air & Ocean
As an IATA-accredited cargo agent, Mainfreight Air and Ocean offer a total international shipping import and export service via sea or air and a full documentation service for customs clearance including MPI Biosecurity. Worldwide freight is made simple with our cost-effective core services and specialist teams providing quality service, superior information and a custom-made solution giving you the reach to take your business to the world.
Warehousing
Mainfreight Warehousing provides specialist warehousing and omni-channel distribution solutions across all industry sectors and commodities. Whether you have one pallet or thousands of pallets, Mainfreight provides an integrated supply chain logistics solution for you. We have built a regional warehousing solution that optimizes end customer distribution across the U.S. including multi-site solutions with the focus on finding the best answer for the challenges of our customers