ITS Logistics

Scott Pruneau
Chief Executive Officer
VISION STATEMENT
ITS Logistics exists to improve the quality of life by delivering excellence in everything we do.
ITS CORE VALUES
Safety First: Be safe. Always
Integrity: Doing what is right, ethical and moral
Respect: Treating others with dignity
Teamwork: Working effectively together
Quality: Consistently exceeding expectations
Continuous Improvement: We always want to be better
Compassion: Awareness and respect of others
Having Fun: Being passionate in all we do and having fun doing it
Results: Because results matter
Sustainability: Driving towards a cleaner future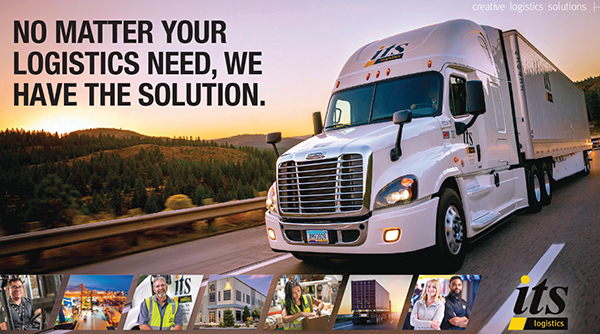 FROM DEDICATED FLEET TO NETWORK TRANSPORTATION TO OMNICHANNEL FULFILLMENT—WE DO IT ALL AND WE DO IT WELL
Whatever your challenge, we will put in the work and create the most efficient and cost-effective solution for you. With some of the best people in the industry, investment in quality assets and technology, and the highest level of service—we deliver. Why ITS? Because we care.
TRANSPORTATION SERVICES
Led by an experienced team that truly cares about your business, we provide dedicated/expedited truckload, intermodal and complete transportation management solutions with one of the newest asset-based fleets in the industry and an extensive network of nationwide carriers.
Dedicated/Network linehaul, pool distribution & private fleet enhancement or replacement
Safety first culture
ETA predictability & load visibility platform
Dry van, temp-controlled & open deck/oversize
Trailer pool & expedited/teams
Best-in-class carrier qualifications
DISTRIBUTION SERVICES
With AIB certified food grade facilities, leading technology, real-time inventory status and remarkable flexibility—we can develop customized solutions to meet and exceed your supply chain needs. Our strategic locations offer lower costs and next-day ground service to every major city in the Western United States.
1,000,000+ sq. ft. of distribution and fulfillment space
Superior rating by AIB International
Omnichannel: eCommerce fulfillment, retail, B2B & B2C
Cloud-based order & inventory monitoring
Flexible storage options: pallet rack, flow rack, bulk storage, etc.
Pick/pack, kitting & assembly, subscription box, reverse logistics
Quality assurance & value-added services
DRAYAGE AND INTERMODAL SERVICES
We deliver exceptional port and rail drayage services across North America, efficiently empowering your entire supply chain.
Port & rail drayage
Door-to-door & ramp-to-ramp intermodal rail
Cross dock/transload
Superior accessorial, container & cost management
Strategic, secure yard locations
WHY ITS LOGISTICS?
We are proud of our company culture and values, and our vision is to improve the quality of life by delivering excellence in everything we do. Let us find a creative logistics solution for your supply chain needs today.