Port of Galveston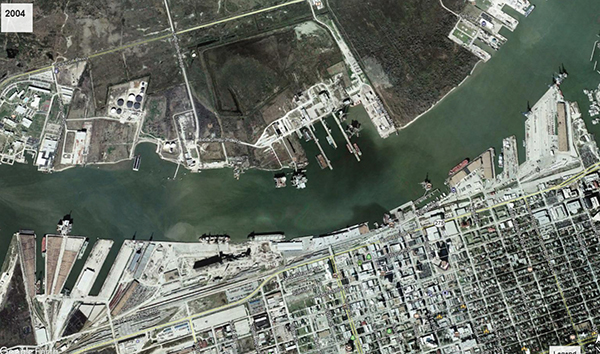 The Port of Galveston is one of Texas' major seaports. It does not rely on any tax dollars for operations. The Port generates current annual operating revenues of approximately $51.5 million, provides an annual estimated economic impact to the State of Texas of over $2.1 billion, and generates approximately 14,000 jobs.
The Port of Galveston, a Landlord Port with facilities and property approximating 840 acres on Galveston Island and adjacent Pelican Island, facilitates the movement of a diverse mix of domestic and international cargoes that deliver value to the region and the state. Situated on the Gulf Intracoastal Waterway and the Interstate Highway System (I-45), the Port is also served by two major western Class 1 railroads, the BNSF Railway Company, and the Union Pacific Railroad. The Galveston Ship Channel has an authorized depth of and is maintained at 45 feet, with channel widths up to 1,200 feet. The Port serves the cargo, cruise, and offshore oil and gas industries simultaneously.
One of the top 50 ports in the nation and one of the busiest seaports in Texas, the Port moves an average of 4 million short tons of cargo each year. This includes export grain, fertilizer and other dry and liquid bulk products, wind turbine towers, blades, nacelles and other components, high and heavy cargoes, project cargoes, new, used and personally owned vehicles, agricultural machinery, construction equipment, and numerous other types of roll-on/roll-off cargoes, household goods, refrigerated fruit and produce, liner board, military cargo, and some containerized cargo. The Port maintains Roll-On/Roll-Off (Ro-Ro) terminal facilities in both the east and west end areas of the Port, currently serviced by 4 regular Ro-Ro shipping lines. They are Wallenius Wilhelmsen Logistics (WWL), American Roll-On Roll-Off Carrier (ARC), "K" Line, and ACL-Grimaldi Line. Nearly all of the Port's facilities have direct access to the Port's terminal railway services, Galveston Railroad, LP, which interchanges with the Class 1 railroads.
The Port of Galveston is also the Grantee for Foreign-Trade Zone (FTZ) No. 36, an Alternative Site Framework (ASF) Zone with activated sites located on Galveston Island Port facilities, Pelican Island, and other locations in Galveston County.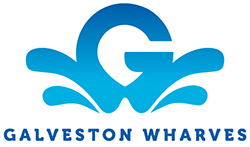 Galveston Wharves at the Port of Galveston
123 Rosenberg Ave., 8th Fl.
Galveston, TX 77550
Phone: 409-765-9321
Fax: 409-766-6171
www.portofgalveston.com