Flock Freight

Oren Zaslansky
Founder and CEO
Our Story: Oren Zaslansky, Founder and CEO of Flock Freight, founded his own 100-truck fleet at age 20, providing white-glove freight service throughout the U.S. and Canada. Next came SolSource, Oren's first brokerage, which opened his eyes to the inefficiencies and pains of LTL shipping. Now, after 20+ years in freight, he's introducing the solution that will revolutionize the freight shipping experience: FlockDirect.
Our Mission: Reimagine and reinvent the freight industry by relentlessly eliminating waste and inefficiency with freight pooling.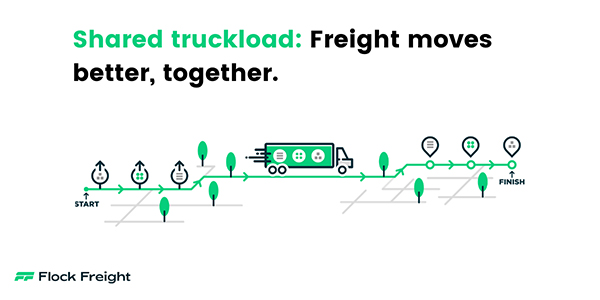 Flock Freight is a venture-backed startup in San Diego, funded by SignalFire, GV (formerly Google Ventures), and GLP Capital Partners, among other names.
Our mission is to reinvent North America's $400-billion freight industry by relentlessly eliminating inefficiency and waste through shared truckload shipping: The fastest, safer, greener — just better — way to ship.
The shared truckload mode replaces traditional shipping methods with one, inherently sustainable business model. With shared truckload service, shipments that are traveling on a similar route move on the same truck. Freight travels directly from its pickup location to its destination — without passing through LTL facilities. Shared truckload service enables shippers to deliver damage-free loads on time and enjoy savings of 20% or more. Ideal for freight that weighs up to 36,000 pounds and measures 10-44 linear feet, it also solves for large-volume shipments that strain LTL networks.
Shared Truckload Shipping Boosts Efficiency
In general, freight between 5,000 and 20,000 pounds is the least profitable for LTL carriers to move. Because typical LTL RFPs require carriers to honor tariffs for freight that weighs up to 20,000 pounds, carriers are less aggressive with their discounts. (They want to ensure that their profitable smaller freight outweighs their losses on larger freight.) This course of action creates suboptimal outcomes for shippers and carriers alike. Luckily, shared truckload shipping solves this problem: Shippers can run a shared truckload RFP (when they might otherwise have pursued LTL) and get a lower rate.
Shared truckload shipping is a better alternative to TL service, too. With TL service, trucks move no matter how much freight they're hauling. As a result, TL RFPs don't account for unused truck space; a shipper that can't fill an entire truck ends up paying for air. With shared truckload service, however, shippers only pay for the space they need. They can submit a shared truckload RFP for 4-24 pallets and get the same TL service that they know and love — for a fraction of the price.
Flock Freight is the only logistics provider that guarantees shared truckload service. We use business as a force for good and are the only freight shipping company with a B Corp certification.
Learn more at flockfreight.com.