Evans Distribution Systems

John A. Evans
President
Mission:
To be a strategic supply chain partner, admired for our people, passion and innovation.
Nine Point System
Listen
Innovate
Communicate
Assign Responsibility
Set Standards
Document
Implement
Monitor
Review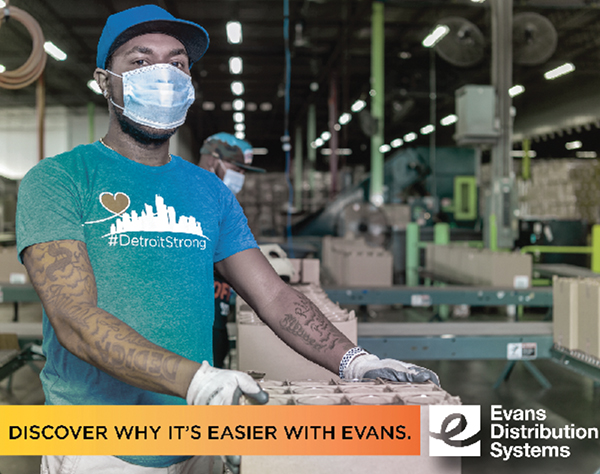 Evans Distribution Systems is a 90-year-old, full-service third-party logistics company located in Detroit, Mich. We operate seven warehouse facilities totaling nearly three million square feet. Our transportation operation includes 100 trucks, 150 drivers and 2,500 partner carriers. We operate from our five core business units:
Warehousing – Dedicated, contract, bonded and Foreign Trade Zone.
Fulfillment – Integrations, small parcel volume discounts and real-time reporting.
Value-added – Contract packaging, shrink wrap, kitting and quality inspection.
Transportation – Competitive asset-based and brokerage transportation management solutions.
Staffing – Scalable staffing solution with qualified and vetted employees.
Reputation
Since 1929, we have built a reputation for quality and trust amongst our partners, employees and customers. We go above and beyond to support the local communities that we operate and live in.
Expertise
For 20 years, Evans has been ISO 9001 certified, and we also hold C-TPAT and SmartWay certifications. In addition, one million square feet is classified as Foreign Trade Zone and U.S. Customs Bonded.
Scalability
Our customers experience exponential growth when working with Evans. Through our seven locations, we can adapt to long-term or short-term contracts and shift people based on our customer needs and volume. Our diversified service offerings and staffing solutions allow us flexibility to accommodate shifts in your business.
Technology
Technology is the backbone of the supply chain. With a dedicated IT department, Evans is committed to providing the latest software, hardware and data-driven solutions to our customers. From machine vision/AI automation systems, to warehouse and transportation management software, to RF barcode scanning, EDI/API connectivity, and fulfillment integrations—we use technology to optimize performance. We provide real-time visibility into inventory and shipments to all customers.
Diversification
Evans serves a variety of industries and business models. Customers range from consumer goods, furniture, automotive, food and beverage, chemical, hazmat, raw materials, robotics and more. Our expansion into fulfillment has positioned us as an expert of direct-to-consumer services.
Discover Why It's Easier with Evans
Discover how partnering with Evans Distribution Systems makes things easier for you. We simplify the complex supply chains so that you can do what you do best—manage and grow your business. Call us and see for yourself at 1-800-OK-EVANS.