DCG Fulfillment

Jim Jennison
President & CEO
PHILOSOPHY
Doing business can be challenging. At DCG, we feel strongly that it is much easier to "roll-up our sleeves" and attack challenges head-on until they are brought to an accurate and timely close, versus spending time and effort after the fact, explaining why we were not able to meet even the toughest of demands.
As a company we have created an atmosphere among our employees which encourages them to work as one team and to approach the warehousing and distribution functions differently than is typically found with our competitors. A major emphasis is to conduct our business at the highest professional levels yet maintain an easy business style that enables our customers to communicate easily with us. This promotes strong partnerships with our customers.
At the end of the day, we pride ourselves in performing at levels that exceed our customers' highest expectations.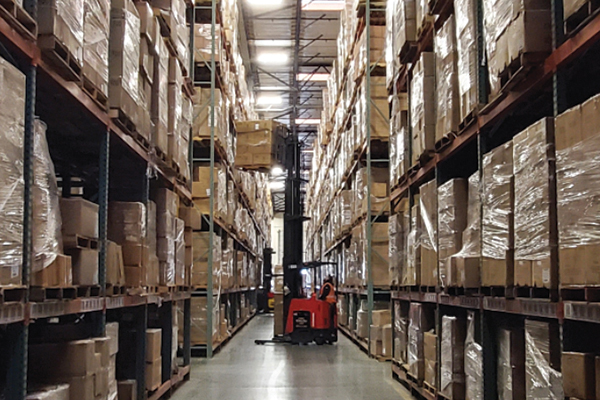 Since DCG Fulfillment was founded in 2000, the family-owned West Coast third-party logistics provider has enjoyed significant year-over-year growth. The entire increase can be attributed to people hearing about the outstanding service levels we provide.
To date we have not employed a formal sales effort—our business has come primarily by way of referrals from our current customers. They say some extremely nice things about the positive effects that DCG Fulfillment has had on their businesses—their word-of-mouth is working!
Ensuring the Highest Performance Levels
Relative to our growth, we are very careful not to take on any more business than we can comfortably on-board and digest. As operations management professionals, we recognize the need to work diligently to bring each new account to its highest performance levels quickly—just as if they had been with us for years.
Our goal is to be a "partner" by handling all the operational needs in an exemplary manner. By doing so, we expect that our customers will have more time to devote to other areas of their businesses, such as sourcing products or the managing of the marketing, merchandising, and selling efforts. DCG handles the rest.
E-commerce Innovation
Our classic approach to servicing your business has not prevented us from investing in top-tier systems and cutting-edge operations. Being one of the top pick-and-pack operations on the West Coast has allowed us to expand, but looking towards the future we understand the importance of e-commerce in supply chain to sustain your, and our, growth.
We have invested in e-commerce specific processes, which expedite your products out the door in a professional fashion and provide a better end-user experience to your customers. We also have invested in robotics to help ensure consistency and quicker turn-around times.
We hope that you will take the time to find out firsthand about our company. Our professional approach, yet casual style, not only provides effective results but it also makes doing business with us easy and, hopefully, an enjoyable experience. At DCG Fulfillment, we are sure you will be impressed. If you are looking for a trust-worthy 3PL that provides excellent service, treats your company's interest as if they were our own, and a logistics partner, please email us at sales@dcgfulfillment.com.
Our Facilities
Currently we operate out of six warehouses in Southern California which comprise more than 2.7 million square feet. These buildings are Class A structures with ceiling clear heights from 30 to 36 feet. Each warehouse has an extensive fire sprinkler system in place with 24-hour monitoring from a central station. In addition, the systems are tied directly to the fire departments. In each building we also have 24/7 monitored security systems in place.
In addition, we are poised to quickly add additional warehouse space as needed. We have designed all our computer systems to be easily replicated and we are constantly grooming personnel at all levels. This core of talent is ready to immediately staff a new building. If we were fortunate to gain your business our plan would be to immediately acquire the additional space if required.