AR Traffic Consultants

Arnold Riback
President
Mission Statement:
AR Traffic Consultants, Inc. has been dedicated to providing the finest in transportation logistics software and services since 1964. All of our products and services are designed specifically to improve the efficiency, accuracy, record-keeping, control and auditability of shipping. We provide the actionable information our clients need to lower their freight costs. Always providing top-level customer service, we are constantly upgrading our products and adding features to keep our clients ahead of the competition.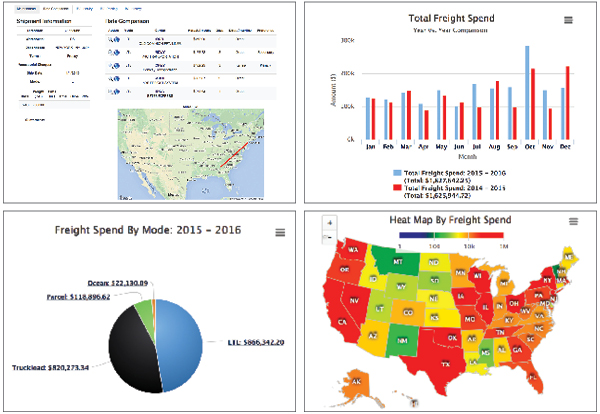 We offer a comprehensive transportation management system available both as a cloud solution and for IBM's System I (AS/400) computers. Our modules interface with many ERPs. We are also an Infor Solution Partner. Additionally, we provide third-party freight auditing and payment services as well as supporting freight rate negotiation for parcel, LTL and truckload shipments. Our cutting-edge Freight Dashboard will show you the components of your freight spend and help you determine areas for hidden savings.
You will have access to a system based upon our sophisticated, proprietary rating engine CalcRate®, capable of handling multiple rate bases, FAKs, weight breaks, discounts, absolute minimums, fuel surcharge tables and accessorial charges. Discount and floor exceptions can be entered for region, state, even down to the ZIP code level. Use the system for carrier seleit startsction, rate comparisons, mileage determinations and to streamline your freight auditing and payment. All of your freight history is stored for future analysis and auditing.
Use CalcRoute®, our advanced freight optimization module to combine shipments from one or multiple warehouses into multi-stop truckload shipments, saving up to 40% of the cost of sending shipments separately. You can also use this tool for pool distribution and parcel zone skipping.
Use the freight analyzer to determine if your warehouses are shipping by the optimal carrier and if you are shipping from your best sourcing location. See the effect that changes in the rate base, floor and discount will have on your freight spend. The warehouse relocation tool will show you the cost impact of opening a new warehouse or moving an existing one to keep up with a changing customer base.
Take advantage of using your carriers' rate bases to save over using a corporate tariff when comparing rates with the LTL Bid Analyzer. See the effect on your freight spend as if you shipped by a single carrier, used the same carrier as historically or opted for the lowest cost carrier. When you are ready, just set the new effective date and start shipping. Send truckload carriers your lanes with the Truckload Bid Analyzer, compare and load the rates you accept with the press of a button.
Free studies are available to determine the impact of utilizing a TMS value-added program.