Aptitive

Paul Corning
CEO
Mission Statement
At Aptitive, we help transportation and logistics companies uncover the insights hidden in their data, from understanding historic trends to predicting future outcomes. Our consultants work with organizations to learn their business goals and develop an end-to-end modern data & analytics solution that gives companies the insights they need to grow and compete in a digital world.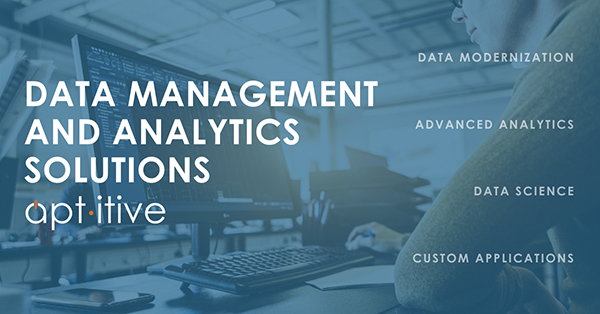 Like many industries, the transportation and logistics industry is seeing the need for digital transformation to remain competitive in today's data-driven world.
Aptitive helps logistics companies implement data modernization strategies that improve access, accuracy, and visibility into their operations and supply chain. We create modern cloud-based data and analytics solutions for logistics companies to help them forecast customer demand, manage inventory, optimize routes, improve workforce management, and more.
Strategy
Data-driven organizations rely on modern data and analytics technologies to improve operations, attract new customers, increase profits, and much more. Before you can realize the value of a modern data solution, you need a well-defined enterprise data strategy.
Aptitive's consultants work with your team to understand your business goals and design a technical strategy to ensure success throughout the organization. From planning to technology selection to user adoption, our team will help you strategize a solution that drives data-driven insights for the long haul.
Modern Data Platforms
Our consultants build modern data solutions that not only integrate, standardize, and centralize your current data, but also lay the foundation for ongoing growth and expansion.
Advanced Analytics
Advanced analytics, when approached with a business goal in mind, has the capacity to improve sales and marketing efforts, streamline workflows, improve financial reporting and analysis, and optimize operations. Regardless of your reporting needs, Aptitive can build reports, dashboards, and custom applications that provide a user friendly way to access and visualize the data you need, when you need it.
IoT Solutions
The benefits of IoT can only be realized if your digital environment is ready for them. Aptitive's solutions team will help you plan for and build the environment to make your IoT initiatives a success.
Tech Agnostic Approach
Our tech agnostic approach and broad technical expertise means that we work with most of the leading data and analytics technologies today.
No matter where you are in your digital transformation journey, Aptitive will partner with your team to build data, analytics, and customer solutions that meet the challenges and goals of your organization.