Alaska Railroad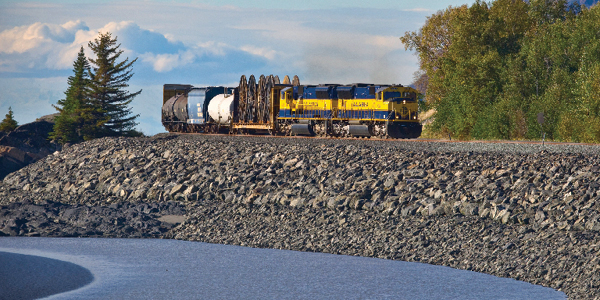 As the only railroad providing freight services in the state of Alaska, the Alaska Railroad is uniquely positioned to move your shipment across the Last Frontier.
Seamless service between Alaska and the Lower 48 – and beyond.
We contract a year-round, weekly barge service between Washington and Alaska, and work with railroads all across North America. The result: a combination rail-barge-rail service to transport your freight between Alaska and the contiguous U.S., Canada and Mexico – arranged all through the Alaska Railroad.
We're with you all the way.
Our dedicated freight customer service team keeps you informed – and your shipment on time and within budget.
Our rail-barge service minimizes transfers, damage and shrinkage.
Railcars from the Lower 48 are rolled on to rail-equipped barges in Seattle and rolled off in Whittier, Alaska, with no need to transload – meaning a safer and more efficient journey for your goods.
No railroad nearby? No problem.
We can arrange for pickup at origin and delivery at destination for non-rail served customers.
Plan ahead and reap the savings.
We won't pretend to be the fastest way to move goods. But there's no question that moving your freight by train is the most cost-effective option.
We haul freight for all kinds of industries:
Project & Construction Freight
Oil & Gas Field Supplies
Mining Equipment & Commodities
Trailers & Containers
Bulk Commodities & Hazardous Materials

Year-round ice-free ports:

Laydown/storage areas:

Alaska Railroad
800-321-6518
Sales & Service
907-265-2448
Freight Customer Service
907-265-2624
www.alaskarailroad.com