Transportation Insight

Chris Baltz
President and CEO
Through innovative multi-modal solutions (LTL, Parcel, TL), technology and advanced analytics, we evolve the digital supply chain for sustainable enterprise excellence.
Enterprise Logistics Services
Domestic Transportation
International Transportation
E-commerce Solutions
TMS Technology
Supply Chain Analytics
Freight Bill Audit and Payment
Parcel Audit, Optimization, Advanced Analytics
Warehouse Sourcing
Extended Lean®
Insight Fusion® Big Data Solution
Private Fleet Consulting
Outsourced Execution
Transactional Services
Indirect Materials Sourcing Including Secondary Packaging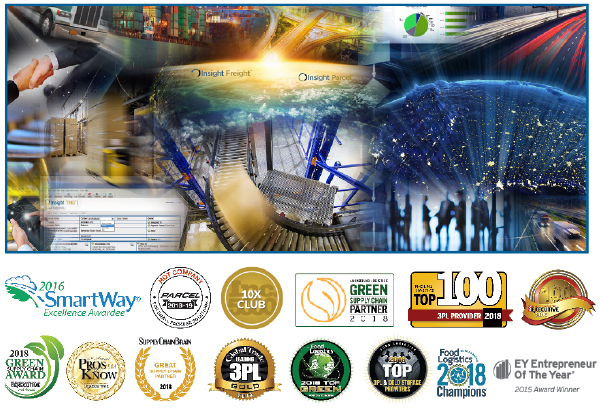 Enterprise Logistics
A non-asset-based logistics provider and supply chain consultant, Transportation Insight offers advanced analytics and technology-powered solutions in all transportation modes (LTL, Parcel, TL). Transportation Insight partners with over 1,500 manufacturers, distributors, retailers and e-tailers to deliver data-driven insight for supply chain transformation. We help clients grow, reduce supplychain related costs, increase agility, improve customer delivery experience, mitigate risks, streamline processes and achieve enterprise sustainability.
Continuous Improvement
With our Extended LEAN® continuous improvement methodology for the supply chain, we help clients increase operational efficiencies, maximize profits, improve visibility and optimize their extended value chain. Transportation Insight implements integrated analytics to help clients increase efficiency, while reducing vehicle miles, fuel and energy consumption and air pollution emissions. This sustainability mindset earned Transportation Insight a U.S. Environmental Protection Agency 2016 SmartWay® Excellence Award.
Logistics Innovation
Co-managed Logistics®, our consultative approach to logistics management, allows shippers to maintain their desired level of supply chain control. Clients consider us a trusted expert providing optimal choices in end-to-end supply chain solutions, including domestic transportation sourcing and support, international freight forwarding, import/ export compliance, integrated warehousing and other value-added services.
Analytics
We deliver comprehensive present, past and future business insight solutions. Quickly identify optimal shipment routing and service providers, access in-transit tracking and execute shipments. Leverage comprehensive reporting to uncover missed opportunities, spot trends and make datadriven decisions. Look forward with advanced network modeling and simulation tools. Access key performance indicators when, where and how you need them through our mobile interactive portal Insight Fusion®.
Technology
Insight TMS®, our customizable, web-based Transportation Management System, provides total shipment visibility from foreign ports to the customer's door through one interface. Automate logistics tasks like load tendering, shipment tracking, rate shopping, dock scheduling and Bill of Lading creation and integrate with other systems for maximum impact.
Parcel Solutions
Transportation Insight's innovative parcel engineers, advanced analytics experts and product managers possess extensive parcel shipping expertise. Through optimization, advanced analytics and auditing (Invoice, Service and Compliance), Transportation Insight helps develop more efficient, economically integrated supply chains for smallpackage shippers in e-commerce, retail and manufacturing.
Financial Settlement
Freight invoice audit and payment services provide benefits beyond ensuring invoice accuracy. We help companies improve accounting efficiency through consolidated electronic billing, automated general ledger coding, timely carrier payment and freight accruals. Rigid processes and controls helped Transportation Insight earn a global reputation of trusted business partner.

Transportation Insight, LLC
Client Support Offices across North America
877–226–9950
e: info@transportationinsight.com
Corporate: Hickory, NC
Atlanta, GA – Bentonville, AR – Boston, MA - Charlotte, NC – Omaha, NE -
Overland Park, KS - Salt Lake City, UT