Port Everglades

Steven M. Cernak, P.E., PPM
Chief Executive & Port Director
Port Everglades is Florida's powerhouse global gateway. A respected leader in trade, travel and financial stability, we create economic and social value by working in partnership with world-class clients. We achieve advancements focusing on efficient facilities, trade and cruise expansion, jobs growth, safety, security and environmental stewardship for our customers, stakeholders and community.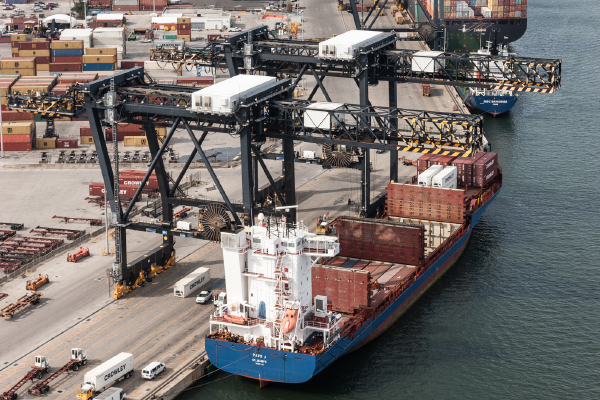 Port Everglades, a national leader in container ports handling more than one-million TEUs annually, serves as a gateway to Latin America, the Caribbean and Europe. Its enviable location in the heart of South Florida's consumer-rich population, is strengthened by intermodal connections that reach 70 percent of the U.S. population within four days.
The Port is moving forward with a public-private partnership to build a logistics center on Port property. The Port Everglades International Logistics Center, LLC (PE-ILC) will include approximately 240,000 square-feet of warehouse facilities with an attached 45,000 square-foot office building on 16.657 acres. The ground lease term is for 50 years. The project will contain warehouse, refrigerated warehouse and office space, and cross-docking facilities, which will enhance the services available to shippers using Port Everglades. The entire logistics center will be designated as a Foreign-Trade Zone (FTZ). Construction is anticipated to be completed in late 2020/early 2021.
As the nation's leading gateway for trade with Latin America, Port Everglades handles approximately 15 percent of all Latin American trade in the U.S. and 37 percent of Florida's total trade in the region. Much of that trade is in the perishable market where Port Everglades is Florida's leading refrigerated cargo seaport, and sixth in the U.S.
Ongoing capital improvements and expansion ensure that Port Everglades is ready to handle future growth in container, cruise and petroleum traffic. Currently, more than $1 billion in infrastructure improvements are planned for the next 10 years.
New cargo berths and Super Post-Panamax gantry cranes are in store for the Port Everglades Southport Container Complex. This $437.5 million expansion, the largest infrastructure project in the Port's history, will allow for up to five new cargo berths by lengthening the existing Southport Turning Notch from 900 feet to 2,400 feet. The project is expected to be completed and operational by 2021.
Part of this effort includes installing crane rail infrastructure for new Super Post-Panamax gantry cranes. Port Everglades has ordered three Super Post-Panamax container-handling gantry cranes at $13.8 million each, and has an option to purchase three additional cranes within five years.
To further enhance ship traffic at Port Everglades, the U.S. Army Corps of Engineers is moving forward with a progressive plan to deepen the Port's navigation channels from 42 feet to 48-50 feet and widen narrower sections of the channel for safe vessel passage. The project is currently in the preconstruction engineering and design phase, having received Congressional authorization in December 2016.
As Port Everglades continues to advance major infrastructure projects, all aimed at improving productivity, this South Florida powerhouse seaport will continue to serve as an ideal point of entry for products shipped around the world.