Old Dominion Freight Line, Inc.

Greg Gantt
President and CEO
Vision Statement: To be the premier transportation solutions company in domestic and global markets served.
Mission Statement: To provide innovative solutions designed to exceed customer expectations, increase shareholder value and ensure the continued success of the OD Company and our family of employees.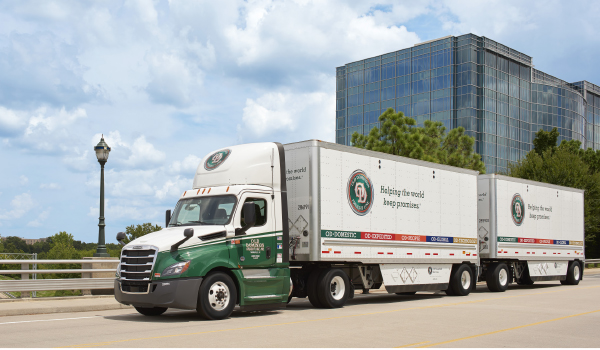 Old Dominion (NASDAQ: ODFL) is a leading, less-than-truckload (LTL), union-free company providing premium service to all its customers. OD offers regional, inter-regional and national LTL service. In addition to its core LTL offerings, the company provides its customers a broad range of logistics services including ground and air expedited transportation, supply chain consulting, truckload brokerage, container delivery and trade show logistics. In addition, through strategic alliances, the Company's customers have access to international freight forwarding services throughout the world. Old Dominion also offers a consumer home moving service: OD Household Services. Old Dominion's safety record, claims ratio and on-time service are among the best in the industry, and OD takes great pride in all of its employees who are driving this success. For more than 80 years, Old Dominion has been helping the world keep promises.
Recently, Old Dominion was recognized with the following acknowledgements for company leadership in the industry:
Mastio & Company ranked Old Dominion as the No. 1 National LTL Carrier for an unprecedented ninth consecutive year.
The U.S. Environmental Protection Agency recognized Old Dominion as a leader in freight supply chain environmental performance and energy efficiency for a fourth consecutive year.
Logistics Management recognized Old Dominion with the Quest for Quality award as Top Multi-Regional LTL carrier for the ninth consecutive year.
The American Trucking Association honored the Company with its annual Claims & Loss Prevention Award for 2018, which is given to the company that sets the bar for claims management, loss prevention and damage control.
Inbound Logistics recognized the Company as a 75 Green Supply Chain Partner (G75) for the ninth consecutive year as well as a Top 100 Trucker for the seventh year in a row.
Forbes Global 2000 recognized Old Dominion as one of the World's Best Employers in 2018, the only trucking company to make the list.
For more information about Old Dominion, visit odfl.com or call 800-235-5569.