Odyssey
Odyssey Logistics & Technology Corporation

Robert H. Shellman
President and CEO
Odyssey specializes in solving complex logistics challenges in the chemical, consumer and retail, energy, food, industrial and manufacturing, medical and metals industries.
Our clients trust us to deliver the solutions and data analyses that enable their internal logistics teams to make the smart decisions to keep them ahead of their competition. Our deep expertise and singular focus on transportation, our proprietary global technology platform, responsive client services and multi-modal supplier network consistently deliver the tailored, efficient logistics solutions they need.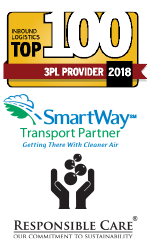 Organizations with diverse and complex transportation needs rely on Odyssey's innovative technologies to deliver thorough, high-value logistics strategies. Our clients benefit from expert tailored solutions across multiple transportation modes, backed by the power of our more than $3B freight network.
Complete, Global Services
With operations in North America, Europe, and the Far East, Odyssey's logistics programs and services are available in all modes of transport, including:
Intermodal
Ocean container transport and repositioning
Intermodal ISO tank – chemical and food grade
Food grade flexitank services
Metals; specialized Load and Roll Pallet (LRP) for safe, damage-free transportation
Trucking
Flatbed and warehouse
Bulk tank truck and ISO tank depot services
Bulk brokerage; planning and contracting available
Truckload and Less-than-Truckload; managed by client or Odyssey
Managed Services
Domestic and International Logistics; N.A., EMEA, APAC
Global sample fulfillment and distribution
Freight management; single-source for contracting, track and trace, invoice audit/pay and claims support
Rail; procurement, car maintenance, operations, service monitoring and reporting, fleet and car tracking
Facilities; supply chain needs analysis start-up and network optimization projects
International Transportation
Customs brokerage
International freight forwarding; transport and technology
NVOCC; full container and load shipping solutions
Partner with Us
Whether you choose to have us support all or a portion of your logistics services or to manage it yourself via our web-based dashboard, partnering with Odyssey gives you access to our exceptional logistics and technologies and returns transparency and control to your transportation needs.
Odyssey is here to help – contact us today.