Evans Network of Companies

Matthew "Bo" Bates
President and CEO
Mission Statement:
Our corporate mission is to continue to grow as a vital force in the transportation and logistics industry, and to provide superior logistical services and support to our customers. We are a winning team of capable leaders, associates and agent partners who respond quickly and efficiently to change and are able to adapt aggressively to the customer's needs.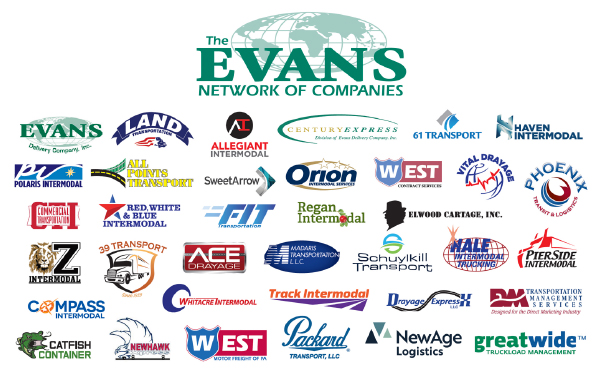 The Evolution of the Evans Network of Companies
Founded in 1939 by Albert Evans Sr in Pottsville, Pa., The Network has evolved over the last three decades from an asset heavy LTL trucking operation into the largest asset light independent Intermodal drayage provider in North America. The Company has primarily been focused on building its drayage platform through service expansion and acquisitions. As of today the network has expanded operations to include brokerage, flatbed and truckload, with 600 service center locations and more than 7000 trucks. This expansion extended into employment as well, The Company now employs 400+ people half of whom are in the Schuylkill Haven corporate office. With revenues in excess of $1.2 billion, Transport Topics, a widely read transportation periodical ranks Evans Network as the 39th largest for hire trucking company in the United States. The Evans Network of Companies is excited to celebrate 80 years in business.
The Evans Network of Companies gives back to the community in many ways. Multiple employees are involved in local organizations such as Penn State University Schuylkill, The Schuylkill Chamber of Commerce, NEPA Logistics/ Transportation Partnership and many nonprofit groups including The Walk In Art Center, Schuylkill YMCA, Vision, United way, Boy Scouts of America, local fire companies, and many other nonprofit organizations.
The Evans Network encompasses:
Evans Delivery Co. Inc.
39 Transport
61 Transport
All Points Transport
Allegiant Intermodal
Century Express
Hale Intermodal Trucking
Haven Intermodal
Land Transportation
Orion Intermodal Services
Phoenix Transit & Logistics
Polaris Intermodal Services
Red, White and Blue Intermodal
Regan Intermodal
Sweet Arrow Trucking
Vital Drayage
West Contract Services of PA
Whitacre Intermodal
Z Intermodal
Schuylkill Transport
Drayage Express of Delaware
FIT Transportation
Commercial Transportation (CTI)
ACE Drayage
Madaris Transportation
Compass Intermodal
Pierside Intermodal
Track Intermodal
Catfish Container
Madaris Logistics
Elwood Cartage Inc.
Phoenix
Packard Specialized Carriers Inc.

West Motor Freight of PA
Packard Transport Inc.
Packard Logistics, Inc.
Greatwide American TransFreight, LLC
Greatwide Cheetah Transportation, LLC
Greatwide Dallas Mavis, LLS
Greatwide National Transportation