Evans Distribution Systems

John A. Evans
President
Mission:
To be a strategic supply chain partner, admired for our people, passion and innovation.
Nine Point System
Listen
Innovate
Communicate
Assign Responsibility
Set Standards
Document
Implement
Monitor
Review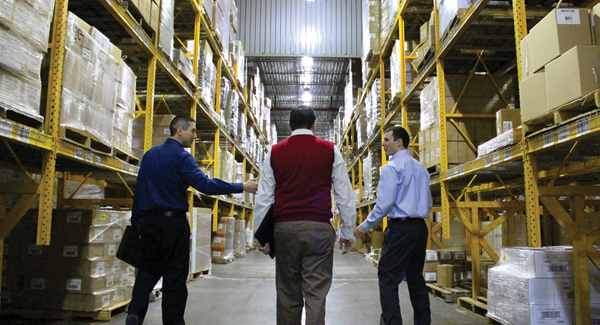 Evans Distribution Systems helps customers enjoy a smoother glide through the supply chain by simplifying complex processes and delivering effective results. As our tagline suggests, "It's easier with Evans."
Our philosophy encompasses the idea that customer success directly correlates to how easy we make it for our employees to provide the best service possible. We're a strategic partner closely involved in our customers' supply chain decision-making, serving as their eyes and ears, anticipating supply chain challenges and proactively identifying opportunities to improve processes and increase profitability.
Heritage
From our founding in 1929, Evans Distribution Systems has evolved into a full-service third-party logistics service provider offering warehousing, transportation, packaging, inspection, and staffing services. Our extensive and diverse experience with industries including automotive, chemicals, food & beverage, retail and others provides our customers with flexible, creative solutions which enable them to become more successful. Now in our fourth generation of Evans family leadership, the company employs more than 700 associates operating in ten states including Michigan, Virginia and Illinois.
Innovation
Evans is particularly adept at meeting changing customer demands by continually investing in new technology to support transportation, warehousing, and value-added services. Our state-of-the-art WMS & TMS systems deliver real-time inventory tracking, satellite tracking, geo-fencing, customized reporting, event management, complete web visibility and some of the most flexible customized solutions available anywhere. Providing these extra services helps our customers to better utilize their own valuable resources, freeing up time they can devote to other areas of their business.
Passion
The Evans team includes many long-time, dedicated employees devoted to providing the highest quality service. This loyalty provides customers with confidence and comfort the job will be handled right, no matter what. It's a commitment that enables us to provide premium service. We have the right people, systems and programs in place at the right time, every time.
Simplified Systems
Our goal is to work seamlessly as an extension of each customer's organization. We blend our logistics expertise with the experience and knowledge of each customer to develop efficient and synchronized processes specifically designed to face the challenges at hand.
Specialized Services
Dedicated & Multi-Client Warehousing
Foreign Trade Zone and US Customs Bonded Space
Transportation Management Services
Fulfillment/e-Commerce
Complete Local and Long- Distance Transportation Services
Contract Packaging, Shrink Wrapping, Kitting
Quality Inspection and Sortation Services
Assembly, Light Manufacturing
Testing and Rework
Logistics Staffing Services