Descartes Systems Group

Edward J. Ryan
Chief Executive Officer
Mission Statement
Connecting logistics-intensive businesses in commerce by uniting the people and technology that move the world.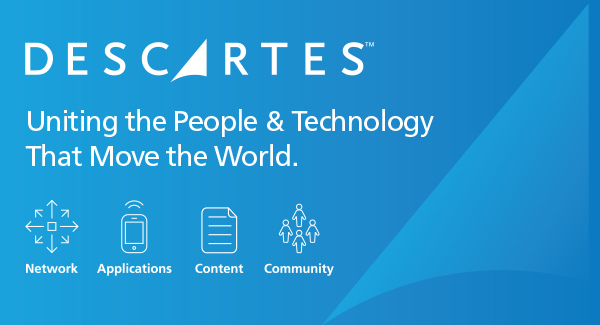 Descartes is the global leader in providing on-demand, software-asa- service solutions that improve the productivity, performance and security of logistics-intensive businesses by helping companies to route, schedule, track and measure delivery resources; plan, allocate and execute shipments; rate, audit and pay transportation invoices; access global trade data; file customs and security documents for imports and exports; and complete numerous other logistics processes by participating in the world's largest, collaborative multimodal logistics community.
Descartes Routing, Mobile & Telematics™
Optimized route planning
Dispatching and GPS tracking
Mobile applications
Telematics
Fleet/driver, compliance and performance management
Descartes Transportation Management™
Carrier contracts
Transportation plans across all modes
Multimodal real-time freight visibility and load tracking
Connections to trading partners
Control flow of prepaid freight
Track shipments and inventory
Audit freight
Dock appointments and trailer movements
Supplier/carrier performance
Descartes Global Logistics Network™
Value-added network services
Multimodal, inter-enterprise electronic data and document exchange
All transportation modes and messaging standards
Share commercial, logistics, customs and product data across systems
Descartes Customs & Regulatory Compliance™
Cargo security screening
Customs declaration filings and compliance
Secure connections to governments and regulatory agencies
Descartes Global Trade Content™
Classification
Valuation
Global import/export trade data for market research, sourcing and competitive strategy
Denied and restricted party screening
Enterprise Resource Planning (ERP) integration
Global Trade Management (GTM) integration
Integration with other internal systems and ecommerce platforms
Descartes Broker & Forwarder Enterprise Systems™
Shipment management
Transportation bookings
Security filings
Customs entries
Warehousing
Accounting
Proven Expertise
With thousands of customers worldwide, Descartes has a proven track record of helping companies drive logistics value by automating processes, enhancing service, improving profitability and ensuring compliance. Descartes' headquarters are in Waterloo, Ontario, Canada and the company has offices and partners around the world.