What the Health is Going on?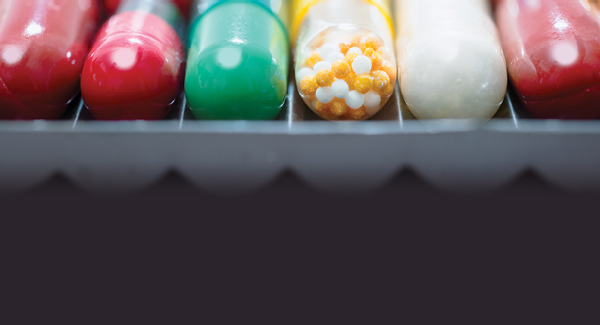 The U.S. healthcare system faces many challenges that efficient supply chain management can help heal.
More to the Story:
The U.S. healthcare system faces many challenges that efficient supply chain management can help heal. "A strong, clinically integrated supply chain will drive significant savings and improve patient outcomes," says Chris Mele, consulting director, supply chain operations, with Vizient Inc., a healthcare performance improvement company.
Within healthcare, supplies are the second-largest cost after labor, says Jeff Girardi, director, industry affairs with the Health Industry Distributors Association.
Healthcare supply chains in the United States range from those with sophisticated, centralized distribution centers and supply operations that serve multiple affiliates, to those that rely on manufacturers and distributors to perform many of these functions, says Scott Mooney, vice president, distribution operations with McKesson U.S. Pharmaceuticals.
Manufacturers of durable goods and medical devices typically ship directly to healthcare providers, often weekly. Distributors are more common with pharmaceuticals.
Healthcare providers typically don't source raw goods; instead they purchase supplies that have already been produced. In comparison, many fast food chains own or contract with farms that produce tomato products and ketchup, and often are involved in the processing operations.
Among the challenges facing supply chain professionals working in healthcare, complexity tops the list. The healthcare supply chain consists of numerous, unrelated items: food, medicine, supplies, and implantable devices are just a few. Many products are regulated and must remain both sanitary and within established temperature ranges, says Gerald Ledlow, Ph.D., interim dean, UT Health Northeast, a part of the University of Texas system.
The multitude of players—healthcare providers, insurers, administrators, and patients—adds to the complexity. They make it "difficult for anyone at the supplier level to understand what the customer, whether a medical professional or patient, wants and needs," says Julius Heil, president and CEO of Intalere, a supply chain firm focused on healthcare.
Healthcare providers need inventory that accommodates "edge" cases, such as replacement knees for both the seven-foot-tall basketball player and the petite gymnast, as well as everyone in between.
Inventory is Spreading
As more procedures move from hospitals to outpatient surgery centers, supply chain professionals must manage inventory across an increasing number of locations. "What's needed to deliver the most efficient care when the points of care are exploding?" asks Chris Luoma, vice president, product management with GHX, a healthcare business and data automation company.
Fragmentation is another challenge. Hospitals have tended to operate as islands. When one innovates, others typically don't see and can't learn from that experience. "The structure of healthcare prevented many innovations from taking hold," says Jonathan Byrnes, senior lecturer at MIT. Fragmentation also inhibits economies of scale.
To be sure, some consolidation is occurring. Some providers are opening distribution centers that supply several hospitals. The warehouses often are located where real estate costs are lower, says Shay Corcia, senior director in the health solutions practice with FTI Consulting. Hospitals gain space for additional procedure rooms, and it's less expensive for vendors to make larger deliveries to one distribution point, rather than numerous small deliveries to multiple locations.
Another challenge has been the perception that any extra funds within the healthcare system should be allocated to patient care. Of course, most supply chain professionals in healthcare put patient health and safety first. At the same time, investments in the infrastructure needed to run healthcare systems, including the supply chain, can both save money and boost patient care.
Transparency Deficiency
That point often is lost, however. More than three-quarters of respondents to a recent survey were manually counting inventory in some parts of their supply chain. "These manual systems typically lack the data sharing and transparency necessary to provide hospital staff with vital information," says Lisa Zierten, director of marketing for hospital services with Cardinal Health, a healthcare services and products company.
Many healthcare providers and supply chain professionals are taking steps to address these challenges. BJC Healthcare System, a nonprofit healthcare system based in St. Louis, is investing heavily in supply chain technology and talent management across its 14 hospitals and approximately 200 physician offices, says Al McQueen, director, supply chain central operations. For instance, it centrally manages some medical devices and high-value items, so the smaller hospitals don't need to stock these products or place orders for more than they need just to meet minimum order quantities.
BJC also is exploring the use of RFID technology for implantable devices and some more expensive supplies. "RFID would allow us to track unique items," says Troy Compardo, director, regional supply chain operations. Implementing this technology enhances patient safety, as expired or obsolete products are highlighted. It also streamlines inventory management.
Technologies such as RFID that enhance visibility across the supply chain help all parties better understand buying and utilization patterns. That can drive efficiencies and lower costs.
Product standardization, such as carrying several types of exam gloves instead of several dozen, allows for better tracking of costs and more efficient procurement.
Moreover, providers can quickly become experts when working with a smaller number of products. "There's a reason Southwest Airlines flies only 737s," says Shaun Clinton, senior vice president for supply chain management with Texas Health Resources, a nonprofit health system in the Dallas-Fort Worth area.
Supply Chain Fights for Life
These benefits can be key to making the case for investments in supply chain technology. "The supply chain department competes for capital dollars against revenue-producing departments such as surgery and interventional radiology," Mele notes. Showing how a dollar invested in supply chain technology will save money that can be reinvested in revenue-producing areas, "is a challenge every supply chain leader faces," he says.
Compelling data analytics also can help show physicians and other healthcare providers the value of supply standardization. "Clinicians are very data-driven," Compardo notes.
To be sure, many physicians prefer certain products or brands for different reasons, and most patients understandably want doctors who know and have experience with the products they're using. And, the human body is so variable that it's unlikely one product will work for every patient. The goal is to "identify the products that should be exceptions," Clinton says.
To make the case for an appropriate level of standardization, supply chain professionals today need to be able to read medical literature and studies, and tell when, for instance, a sample size is too small to credibly apply to a broader population. "The skill set required for sourcing has changed," Clinton says. "We have to get more scientific about how we make decisions."
Supply chain leaders also need to be able to demonstrate the value of their department and justify investments to the C suite. "Those who are able to get technology approved tend to have an easier time managing their supply chain," Mele says.
Even as more healthcare supply chains capture investments and gain sophistication, challenges remain. One stems, at least in part, from the group purchasing organizations (GPOs) through which many order supplies, says Patrick Flaherty, executive vice president, strategy and innovation with Pensiamo Inc., a supply chain firm focused on healthcare.
The software and hardware investments needed to improve supply chain efficiency, such as warehouse management systems, fall outside the budgets of some healthcare systems. GPOs can spread the costs over the thousands of healthcare providers they serve.
However, GPO fees are a percentage of the volume of sales going through them. The higher the prices, the greater their revenue.
Operating margins among hospitals and other healthcare providers have steadily decreased as access to care has increased. Suppliers, however, have been less impacted; indeed, many device manufacturers enjoy healthy margins. "It's difficult to address the problem by focusing on one part of the equation," he says.
Flaherty has observed more commitment to investing in and elevating the role of the healthcare supply chain, but notes the efforts aren't enough. With one-third of hospitals operating in the red, major change is needed, he says.
Change From an Outside Force
"If we don't disrupt and align our goals to benefit both providers and suppliers, something else will force change," he notes. It might come from a company like Amazon entering the market, or wholescale bankruptcies that prompt medical centers to cut lines that aren't profitable, endangering patient care.
One change that shows promise is additive manufacturing, or 3D printing. Rather than suppliers shipping multiple sizes of implantable devices such as hip replacements to each hospital, surgeons design and create products on-site.
The U.S. healthcare education system also needs to incorporate courses on supply chain. "We have to change the culture to be more supply chain sensitive," Ledlow says.
While supply chain management shouldn't drive healthcare, it can contribute to a more effective system.