What if General George Patton was Walmart's CEO?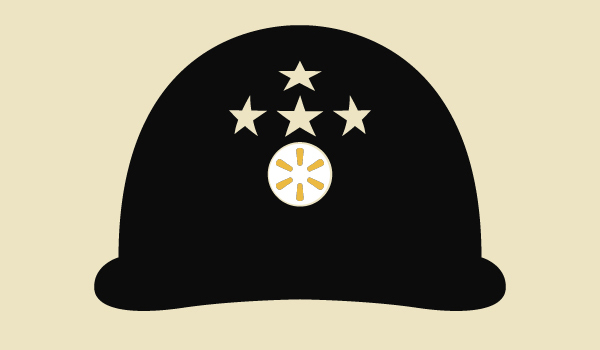 General Patton would survey the e-commerce battlefield where Walmart competes and conduct a threat assessment of every major competitor, especially Amazon.
More to the Story:
Retail and warfare are very similar, especially as they relate to the need for thinking strategically and making bold moves.
Few individuals in the history of warfare were more strategic or bold than General George S. Patton. How good was Patton at commanding troops and coming up with strategies to defeat the enemy? Historians and military researchers have said that if senior civilian and military leaders embraced Patton's ideas for how to fight the war in Europe, World War II could have ended two years earlier than it did.
"Patton had his critics, but he was highly respected for his ability to design and carry out strategies that were unorthodox, bold, and highly successful," Patton researcher and business advisor Lisa Goodale told The Observer. "Is it possible that Patton could step into the role of CEO at a company like Walmart and succeed? Yes, no question.
"I also support the argument that Patton wouldn't hesitate to end the focus on strategies he viewed as being wrong and ineffective," she added. "Patton looked for weaknesses and inefficiency in the armies he commanded and the enemies he fought, and that ability could easily be applied to leading a corporation. Patton exploited weakness and eliminated inefficiencies better than any general in history."
Walmart is attempting to think big and be strategic. CEO Doug McMillon has approved several acquisitions and initiatives that are arguably strategic to the company. Unlike Amazon, however, Walmart failed to recognize the value of e-commerce during its early days and over the years has severely underfunded their e-commerce logistics network.
To catch up, Walmart has placed some big bets on e-commerce. But these bets aren't paying off as well as they should. In addition, many analysts question if Walmart's e-commerce strategy is effective.
On August 8, 2016, Walmart announced that they were acquiring Jet.com, an e-commerce company co-founded by Marc Lore, for $3.3 billion in cash. They acquired Jet.com to gain access to technology and a team of individuals who were willing to make bold moves using e-commerce, compared to many Walmart executives who failed to see e-commerce's value to a retailer with 11,766 stores operating worldwide.
Any talk of Walmart running Jet.com as a separate company, however, is lunacy; Walmart will absorb Jet.com into its own platform and kill the brand at some point.
I don't dispute the need for Walmart to invest in the future or in digital. In addition, Walmart has been generating impressive results—achieving growth and boosting operating income. Walmart's online sales continue to grow in excess of 30% quarterly.
But a recent report proclaiming that Walmart's e-commerce division projected losses of more than $1 billion on $21-$22 billion of revenue in 2019 generated a tremendous amount of discussion on Wall Street and in the media.
Losses are to be expected as e-commerce is notoriously unprofitable. Amazon was not an overnight e-commerce success; it took nearly 16 years to start generating profits from their e-commerce operations.
I am not arguing that Walmart should ignore e-commerce. Walmart can't focus only on their stores and must invest in e-commerce and digital to provide customers with the options they desire.
What choice does the retailer have? It is clear that Walmart doesn't have 16 years to get its e-commerce house in order.
One technique I use in my consulting practice is to place CEOs from different industries at another company. Fh3r example, how would Apple CEO Tim Cook run Walmart?
I also place historical figures in a CEO chair for the first time. It's interesting to imagine if General George Patton was the CEO of Walmart. What would Patton see? What strategy would he implement against Amazon?
I am convinced that the first thing Patton would do is survey the battlefield (industry) in which Walmart competes and conduct a threat assessment of every major competitor, especially Amazon. Patton would identify the strengths and weaknesses of each competitor. A truism in war is that you never engage an enemy where they are strongest.
As president and CEO of Walmart eCommerce U.S., Marc Lore's strategy, approved by Walmart Inc. CEO Doug McMillon, can only be described as an attempt to take on Amazon where they are strongest: e-commerce.
The following quote by Patton rings true: "If everyone is thinking alike, then somebody isn't thinking." Patton would call an immediate halt to the e-commerce strategy and state that Walmart needs to have a digital strategy.
But Patton would never support a strategy whereby Walmart fights a competitor that has the biggest advantage. He would assuredly divest Bonobos, Moosejaw, and ModCloth and reduce Walmart's e-commerce budget.
In addition, Patton would redeploy resources and capital to do the following:
1. Maximize every opportunity to leverage stores to drive value to customers. Focus like a laser on improving the grocery business, a key competitive advantage for Walmart. (If Walmart loses the grocery war to Amazon, they will fail as a company. Guaranteed.)
I remain incredulous that Walmart isn't doing more with their grocery business or increasing their focus on the food experience inside their stores with cafes and restaurants.
I'm also amazed that Walmart hasn't invested in or acquired DynoSafe or eDOR, or introduced the use of products from PackIt to offer customers a much improved online grocery delivery experience.
2. Patton passionately believed in the importance of collaborating with other branches of the armed forces. He would be the first to push for Walmart to find strategic partnerships.
For example, Home Depot is investing $1.2 billion to build and open 170 new distribution facilities across the United States, allowing 90% of the population to have same- or next-day delivery. Patton would argue that Walmart/Sam's Club would benefit from a strategic partnership with Home Depot to leverage the home improvement retailer's expanding logistics network.
There are also interesting opportunities for Walmart, Home Depot, and Sam's Club to collaborate on retail, pooling procurement spends on items that each company purchases to negotiate lower rates through increased volume, pooling transportation spends to negotiate lower rates, conducting logistics optimization studies to identify shared dedicated fleet moves, and so on.
3. Patton understood logistics better than any other general in history. I remain convinced that Walmart is missing a tremendous opportunity to create a stand-alone company: Walmart Logistics Services. The company would make strategic acquisitions of trucking and last-mile delivery companies to offer third-party logistics services. They would also manage all inbound transportation shipments of products from suppliers to their distribution centers.
I strongly advise Walmart to scour the United States and acquire every abandoned trucking terminal that is available on the market and leverage the properties to develop a rapid transit and delivery network for e-commerce. Walmart should partner with Oracle on exploring opportunities to take trucking to the next level.
4. Patton would argue that Walmart needs to prepare to fight the next war, not the last. Amazon has already won the e-commerce war, and holds every advantage over Walmart in e-commerce.
Instead of buying a platform such as Jet.com and integrating aspects of it into Walmart.com, I believe Walmart should have acquired Shopify. Why? Because it would allow Walmart to enable commerce for hundreds of thousands of small sellers who want to avoid Amazon. Even Walmart could have been a storefront on Shopify.
The real value to owning Shopify is that Walmart could leverage its best-in-class logistics prowess to create a low-risk, high-value fulfillment ecosystem utilizing internal assets and a network of Walmart-managed strategic third parties to fulfill orders to customers. Walmart could collaborate to create a massive distribution network across the United States, all the while not competing directly with Amazon. I encourage Walmart to pursue discussions with Shopify.
5. Food is the new oil. Walmart must engage in strategies that will influence consumer behavior by introducing new services. An interesting option would be for Walmart to partner with Zume to design and implement the next-generation fresh food supply chain and revolutionize fresh food delivery to consumers. Fleat Network is another company Walmart should partner with.
6. Patton would point out the growing importance of health care in a country with an aging population, as well as growing interest in health from millennials and Gen Z. He would encourage Walmart to establish partnerships with hospitals, clinics, specialty clinics, and nutrition centers and open these types of facilities inside Walmart stores.
I am convinced that grocery stores will be severely disrupted in the United States during the next 10 to 15 years. Walmart would be wise to identify a strategy for converting its retail space for groceries into high-margin leases. Crazy as it sounds, the future of Walmart may be a leading real estate play for health care.
Opening gaming centers inside Walmart stores is another option the company should consider. I am amazed that Walmart doesn't do more with gaming.
7. Patton would make the argument that instead of trying to deliver only groceries and general merchandise to consumers, Walmart should design and implement a strategy to "own the home." In essence, Walmart should acquire the company Enjoy and offer consumers services for setting up smart homes and learning how to use their devices.
Walmart could also provide its own appliance home repair capabilities. The company should seriously consider partnering with Best Buy to open Geek Squad counters inside Walmart stores, or partner with Enjoy to create a better version of Geek Squad.
8. Patton would greatly reduce Walmart's global presence in the 77 countries where it currently has operations and instead focus capital in key regions: North America (United States, Canada, and Mexico), China, and India.
Patton's real genius was that his tactics emphasized violent action and speed to exploit every possible opportunity on the battlefield to kill more enemy soldiers and/or seize strategic locations. Patton preferred to attack and force the enemy he was fighting to react to his plans rather than the reverse.
I challenge anyone to come up with a single example where Walmart has forced Amazon to react to anything. Does anyone honestly think Amazon is afraid of Walmart's e-commerce efforts?
Patton would point out to Walmart's executive team that they're overlooking the possibility of Alibaba making a large-scale strategic pivot into the United States—for example, acquiring a retailer and leveraging Alibaba's prowess in supply chain, logistics, and last-mile delivery to wreak havoc.
Imagine if Alibaba signed a strategic partnership with Aldi? Or acquired Albertsons, Kroger, or Costco?
Patton would focus executives on creating a new game for retail versus implementing strategies that Amazon implemented years ago. As I stated earlier, Walmart appears to be fighting the last war instead of taking the lead in being able to fight the next war. Walmart must find a way to knock Amazon back on its heels.
The Sand Is slipping through the Hourglass
Patton isn't the CEO of Walmart and never will be. However, there are lessons to learn when contemplating what Patton would do if he was the CEO.
McMillon must step back and evaluate Walmart's strategy. Losing $1 billion to $2 billion annually on an e-commerce strategy that has no chance of putting a dent into Amazon isn't sustainable or necessary.
This doesn't mean giving up on e-commerce or digital. It simply means identifying the exact e-commerce strategy that will meet the needs of Walmart's customers and increase the company's chances of providing a better customer experience and increasing market share.
One final comment—there is only one "Everything Store" and that's Amazon. Walmart doesn't have to beat Amazon at its own game. The retailer needs to create a new game and force Amazon to play on its terms.
Going head-to-head against Amazon in e-commerce is certainly bold. It's also the wrong strategy.
---
ABOUT THE AUTHOR
Brittain Ladd is a globally recognized expert in strategy, digital supply chain management, operations, and M&A.