Top 100 Logistics IT Providers & Market Research Survey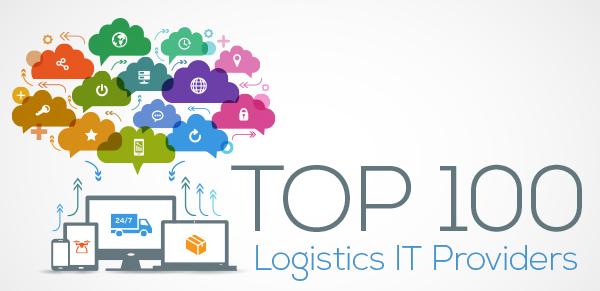 Inbound Logistics surveys the logistics technology sector and evaluates the top solutions providers leading the way to supply chain excellence.
More to the Story:
The logistics technology sector has its head in the clouds, and that's a good thing. Thanks to cloud computing, also known as Software-as-a-Service (SaaS), shippers no longer have to break the bank to invest in new IT solutions, nor are they forced to struggle with legacy ERP, WMS, and TMS solutions that have not kept pace with the supply chain change dynamic.
Among the new options available to shippers are crowdsourcing platforms that let them tap into critical mass and gain economies of scale, thus having some weight to throw around when negotiating rates, driving visibility, benchmarking performance, and dealing with their customers' supply chain impatience. The latest logistics technology offerings also enable shared efficiencies to help extract maximum value from your supply chain stakeholders.
Shippers have a choice between going wholesale and acquiring logistics technology solutions from their 3PLs and/or carriers or going retail and purchasing systems directly from IT providers.
IL's annual logistics technology perspective research was created to offer enterprises of all sizes the best information, enabling them to compete on an equal footing with large global competitors and to comply with increasingly stringent customer requirements. IL's research brings to light industry trends to help logistics IT users and buyers stay on top of a rapidly changing market. We solicited more than 250 IT solutions providers to document some trends that make this space so dynamic.
And our annual Top 100 Logistics IT Providers list (page 66) highlights leading IT companies that are helping shippers navigate the market challenges and leverage logistics opportunities.
Fig. 1 CHALLENGES: Which transportation and logistics challenges are most critical to enterprises seeking supply chain technology solutions?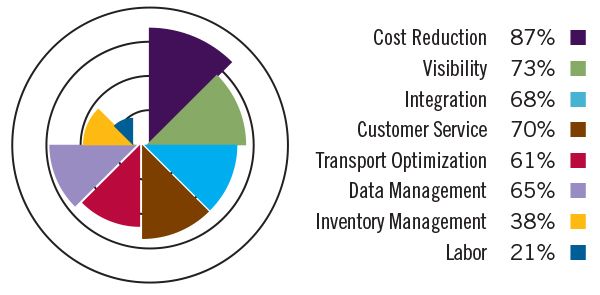 Technology providers offer a broad range of solutions to any business or enterprise interested in improving supply chain performance. This chart shows the customer pain points identified by IT providers. Reducing overall cost of logistics ownership continues to be a strong concern, at almost 87 percent. The growing need for visibility is evident as 73.4 percent cite it as a challenge. As the solutions set matures, past pain points are diminishing in importance. For example, as solutions progress, transportation optimization, inventory management, and integration diminish slightly over last year's reporting figures. But, as technology providers get deeper into their customers' business process, new opportunities for efficiencies rise, particularly with labor management and leveraging big data opportunities, both up over 2015's figures.
Fig. 2 250 SUBMITTING COMPANIES REPORT GROWTH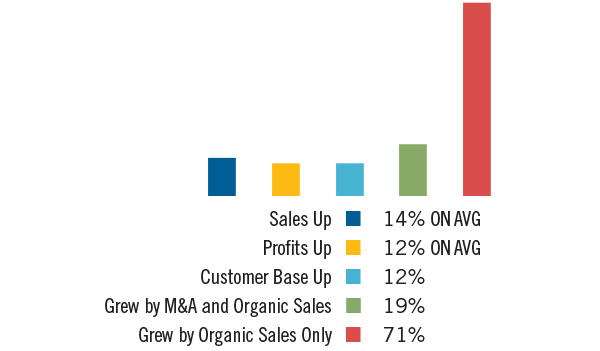 The logistics technology sector is booming, as year over year sales are up an average of almost 14 percent. Bottom line profits for all respondents rose more than 12 percent, and the customer base has grown significantly. Most of the gains were made organically by providing existing customers and their vendors more and deeper solutions that evolve as customer needs evolve. Mergers and acquisitions are also hot, with 19 percent of technology company respondents reporting that they grew by merging with or acquiring other companies.
Fig. 3 INDUSTRY SERVED: What industries do logistics technology providers serve?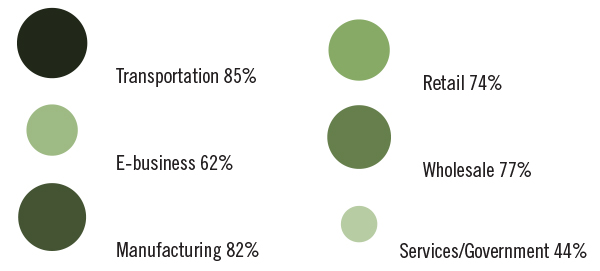 The wholesale channel for providing logistics and supply chain technology solutions is robust, with 85 percent of technology company respondents supporting the transportation sector— carriers, forwarders, brokers, 3PLs, and others. Manufacturing gets the same level of support—82 percent—in 2016 as it did in 2015. Interestingly, global IT offerings to manufacturing enterprises are on the rise as companies continue to source and sell globally and consider nearshoring and reshoring opportunities. Companies served in the retail sector are the same as last year, 74 percent, which, given the contraction of the brick retail sector, is fairly strong. Wholesale sector support ticked up a bit, moving to 77 percent in 2016 from 74 percent in 2015. Services/government dropped to 44 percent from 47 percent served by IT providers in 2015.
Fig. 4 LOGISTICS SOLUTIONS OFFERED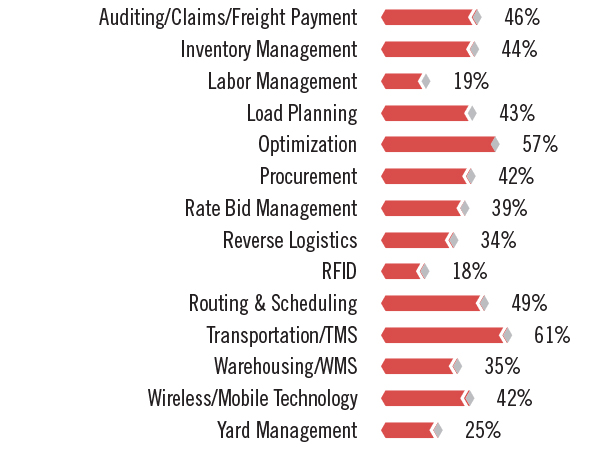 As we say at IL, one inbound stream is another enterprise's outbound stream. The convergence is clear when you consider the similarity between logistics solutions and supply chain solutions offered by survey respondents.
The logistics solutions noted above are, in many cases, transactional or tactical, for example load planning and RFID. The supply chain solutions noted below are more strategic enterprise offerings. The convergence between logistics and supply chain solutions is obvious when you consider that the logistics procurement solution dovetails with the supply chain solutions of DRP and ERP.
Fig. 5 SUPPLY CHAIN SOLUTIONS OFFERED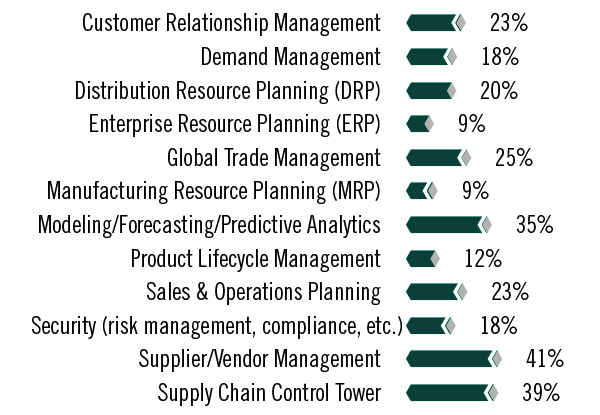 Fig. 6 PLATFORM: How do IT providers deliver their solutions?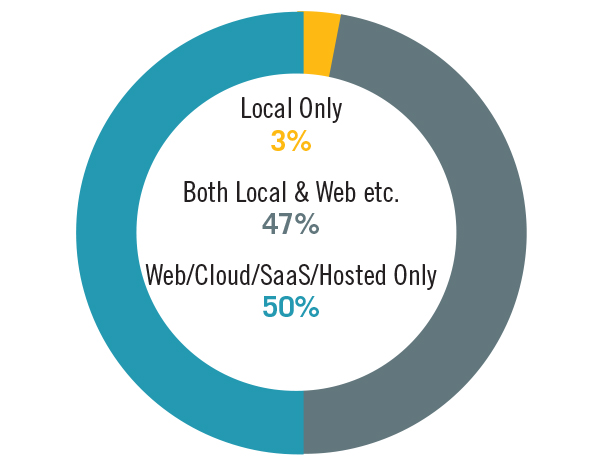 When we say the logistics technology sector has its head in the clouds, we mean it. The migration to web, cloud, and SaaS solutions continues, as 50 percent of all providers deliver solutions on these platforms. It wasn't that long ago when locally hosted solutions were all the rage, given security requirements. Depending on customer needs, 47 percent of respondents offer both locally hosted and web hosted solutions.
Fig. 7 COST BASIS: How do users pay for technology solutions?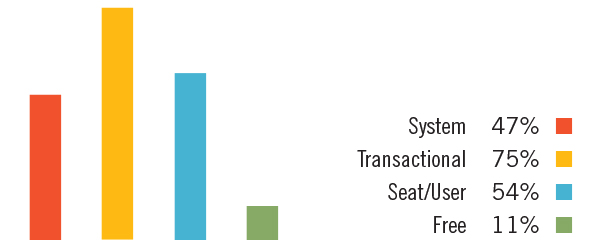 IL has been conducting this survey for a few decades now, and one trend is clear: Customer cost for complex logistics and supply chain solutions continues to fall. Back in the day, only large enterprises could afford the cost, business disruption, and implementation time to get world-class technology solutions. Today, providers offer a growing number of free and transactional solutions. The low cost of these sophisticated systems enables SMEs and mid-tier companies to compete on the same supply chain footing as Fortune 500 companies.