The Nuts & Bolts of the Automotive Aftermarket Supply Chain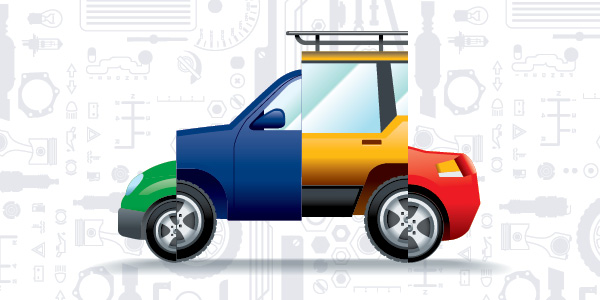 Whether it's time for a tune-up, a vehicle won't start, or a teenager just wants to pimp his ride, auto aftermarket supply chains are geared up to deliver the parts and accessories that keep drivers on the road.
More to the Story:
From the bulb you pop in to fix a brake light, to the new transmission that costs hundreds to install, the automotive aftermarket encompasses a staggering variety of products—small and large, simple and complex.
This industry includes any product you might buy for a light-, medium-, or heavy-duty vehicle after the original sale, according to the Automotive Aftermarket Industry Association (AAIA). That includes replacement parts, accessories, lubricants, products to improve appearance, tires, and tools and equipment for making repairs. Together with attendant services, auto aftermarket products represented $307.7 billion in sales in 2012.
The supply chain for auto aftermarket products involves several sales models. Some retailers sell auto parts primarily to consumers who work on their own cars. Others sell mainly to professional service stations. And automotive original equipment manufacturers (OEMs)—the companies that make cars and trucks—have developed networks of their own to distribute their branded parts to dealership service departments.
One recent industry trend partially merges two of those models—the one for selling to do-it-yourselfers (DIY) and the one for selling to service stations.
Fortna, a consulting and engineering firm based in Reading, Pa., serves several companies in the automotive aftermarket, including manufacturers such as Federal Mogul and retailers such as O'Reilly Auto Parts and Advance Auto Parts. O'Reilly has a history of selling to both the DIY and the "do it for me" markets, while other large aftermarket retailers have mainly pursued consumers.
But that picture has been changing. "Retailers are all trying to get a piece of the wholesale professional installer market, because it's a way of helping them grow their top lines," says John Giangrande, Fortna's automotive aftermarket industry leader.
More Than a Few SKUs
Another trend is the proliferation of stockkeeping units (SKUs). With more auto models on the market, and new technologies such as gas/electric hybrids driving a need for new kinds of replacement parts, the number of distinct items retailers carry has grown tremendously.
As more retailers sell to professional installers, that SKU proliferation poses a serious supply chain challenge. "Professional installers need a wide array of application hard parts," says Giangrande.
And mechanics who order a part usually need it fast, to keep cars turning over in the repair bays. "If a store is not carrying what they need, the mechanics will call that retailer first only so many times," he adds.
A retailer that sells mainly to consumers might have 60,000 to 90,000 SKUs in its supply chain, while a business serving the commercial market might have more than 125,000. Some of those SKUs turn over fast, while others move only once or twice per year. Keeping the right parts in stock—and getting them to professional customers quickly—is a difficult task.
To better serve the pros, some retail stores expand their back rooms to create stocking locations for local deliveries. Other retailers build hub-and-spoke networks, with a "super-hub" store that stocks slower-moving parts and, on demand, speeds them to nearby customers. To fill demand for the slowest-moving parts, some retailers ship from distribution centers or source directly from the manufacturer, reasoning that competitors can't get those products to customers any faster than they can.
Serving the Dealers
Service departments within dealerships rely heavily on distribution networks set up by automakers. In the United States, OEM-branded aftermarket parts—made domestically or abroad—flow into regional distribution centers (RDCs) owned and operated by OEMs. The RDCs supply products to a network of parts distribution centers (PDCs), which the automaker usually owns and operates as well.
As dealerships place orders for parts, PDC employees pick the product and prepare it for shipment in conveyances known as cages, sorted by dealers. Then a transportation provider sends route drivers to pick up the parts and deliver them to dealerships throughout the area.
"We deliver those parts in the middle of the night; we have keys to open the dealerships," says Charles Roth, business development director at CEVA Logistics, a third-party logistics provider based in Jacksonville, Fla. "When the dealerships open in the morning, they've got their parts."
Dealers must place their orders by an established cutoff time to receive next-day delivery, and they've been pressuring OEMs to set those cutoffs later.
"Dealers and OEMs want to ensure they don't have dissatisfied customers, and that customers are not waiting longer than they need to," says Jim Barnett, CEVA's vice president of automotive business development. "They're looking to take every bit of waste out of the replenishment chain, to get parts to customers faster."
OEMs try to accommodate dealers' needs with fast, easy service to keep them from turning to alternative sources for parts. "A lot of local auto parts companies approach dealers and ask for their business," Barnett says. And if they're better able to serve, they'll get that business.
At the same time, OEMs are encouraging dealers to order parts just for their immediate needs, to keep from accumulating stock they might have to return if they don't use it.
Whether they sell to consumers, dealerships, or independent service stations, aftermarket suppliers come under pressure to reduce costs. That's prompting some to consider a strategy that hasn't appealed to them in the past: sharing space with other shippers on trucks or in warehouses.
"In the past, the big automakers would not want their cargo on a truck with another OEM's products," says Barnett. They're still hesitant today, but they will at least consider sharing a truck that a 3PL uses to deliver parts to dealerships.
That's a particularly useful strategy in markets that don't have a dense collection of dealerships—a place such as Reno, Nev., for example.
"Most shippers have only one-third or one-quarter of a truckload going to Reno," Roth says. "So it becomes expensive to service those dealers." If a 3PL can fill the truck with product from more than one automaker, each shipper gains a cost advantage.
That kind of collaboration works for shipments to auto parts stores, as well. Consider a supplier that needs to deliver to 3,000 NAPA Auto Parts stores and 2,000 O'Reilly stores. "Another company across town is probably delivering to many of those same places, or to many of the places where distribution centers for those retailers are located," says Kevin Hogan, senior manager of the Global Automotive Center at Ernst & Young, a global financial services firm with U.S. headquarters in New York, N.Y.
Parts suppliers wouldn't have to collaborate with competitors, or even with companies that make different kinds of auto parts. They might share space on trucks with companies in entirely different industries that happen to ship to similar locations.
Collaborate and Save
Hogan and his Ernst & Young colleague Alex Bajorinas presented this idea at the 2013 Vision Conference of the Automotive Aftermarket Suppliers Association in March 2013, noting that this kind of collaboration has caught on among consumer packaged goods manufacturers. "The presentation stimulated a lot of conversation among auto aftermarket suppliers, but few suppliers have embraced the concept," Hogan says.
A quest for savings is also prompting some parts manufacturers to take a collaborative approach to warehousing, according to Mark Kunar, president of automotive, engineering, and manufacturing at Exel Americas, a 3PL based in Westerville, Ohio. Companies used to want whole DCs dedicated to their operations, but today, some ask to share facilities with other Exel customers, allowing them to divide some of the fixed costs.
Finding Ways to Stand Out
In addition to reducing operating costs, many aftermarket parts manufacturers are looking for ways to distinguish themselves in the marketplace. Domestic manufacturers compete with companies in Asia that make inexpensive copies of standard brands. As the quality of those knockoffs improves, U.S. suppliers must give their customers something extra to justify their higher price tags.
Some suppliers meet this challenge with value-added services. One such value-add is category management, which makes the supplier responsible for forecasting demand for its products, maintaining inventory, and pushing supplies to retailers as needed, rather than waiting for retailers to place orders.
"Category management is a value-added service retailers won't get from knockoff parts suppliers in China or Vietnam," Hogan says. "It requires collaboration and trust, so the retailer knows the supplier has the right data and decision-making processes."
The automotive aftermarket is poised to grow even further. In 2012, sales increased 3.5 percent over 2011, according to the AAIA. And the average age of light vehicles on the road in the United States has been increasing steadily over the past decade, reaching a record high of 11.4 years in 2013, reports Polk, a global automotive intelligence firm based in Southfield, Mich.
As people keep their cars and light trucks longer, demand for aftermarket parts will increase, making it more important than ever for vendors in that market to drive smarter supply chain strategies.