Supporting a Glass Act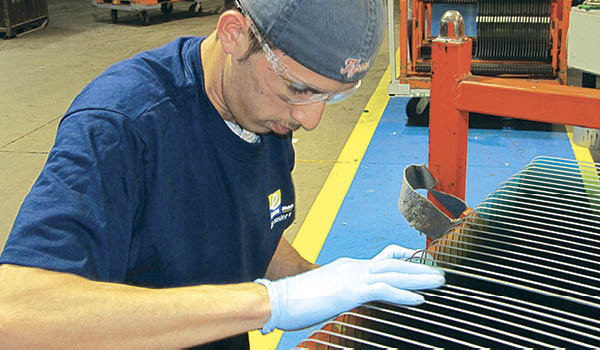 When Mexican automotive glassmaker Vitro opened a distribution center in the United States, it became crystal clear that the site would need a logistics-savvy workforce.
More to the Story:
It's common to hear about U.S.-based companies moving operations to Mexico to conduct business less expensively, but it's not often you hear about a Mexico-based firm moving its inbound logistics operations to the United States. Yet that's just what automotive glassmaker Vitro did.
Vitro became a leading glass manufacturer in Monterrey, Mexico, thanks to U.S. automakers sourcing components from Mexico after the North American Free Trade Agreement was signed. The 103-year-old company manufactures automotive glass products through four subsidiary companies: Auto Templex, Vidrio Plano de Mexico (Automotive Area), Crinamex, and Vitemco.
Vitro also manufactures replacement automotive glass products, which include tempered and laminated glasses, supplying the U.S., Canadian, Caribbean, and Middle Eastern markets.
Vitro ships laminated windshields and tempered parts made in Mexico to satellite facilities to integrate additional components with the products, then moves the products just-in-time to a nearby location for final assembly.
To serve Detroit automakers, Vitro was shipping automotive glass and accessories from Garcia, Mexico, via railcar to a distribution center (DC) in Detroit, run by Melvindale, Mich.-based third-party logistics provider Evans Distribution Systems. The products were then distributed to the Big Three automakers—Ford, General Motors, and Chrysler.
Vitro manufactured the automotive glass in three Mexican plants. Initially, the glass was shipped via full container to the automotive assembly plants, where additional pieces were added. Eventually, the automakers required its suppliers, including Vitro, to first perform those value-added assembly services, then ship the glass.
Closer to the Customer
"We used to ship 75 windshields per container to the Evans DC for distribution to the automakers, who performed the final assembly services," explains Luis Corona, manager of Vitro's Westland, Mich., DC. "With their new requirements to install the accessories before shipping, we could only fit 30 windshields per container. Transportation costs began to rise."
To help reduce those shipping costs, Vitro decided to open its own distribution center in southeast Michigan to assemble the automotive glass accessories and attach them to the glass. In 2008, the DC began receiving products from its manufacturing locations in Mexico, and performing the final assembly tasks.
"The increase in products requiring value-added operations, such as molding assembly and primer application, created the need to consolidate our subcontracted U.S. operations into one manufacturing location," says Corona. "Vitro's U.S. facility transitioned from a receiving and shipping point for our products manufactured in Mexico to a final assembly and value-add operation."
Before moving forward, Vitro discussed its plan with Evans, because moving the operations from Evans' DC to a Vitro-managed site would affect the 10-year relationship between the two companies. Together, they evaluated alternatives and brainstormed potential solutions.
Flexible Support
Because the auto industry is so unpredictable, it is critical to employ a flexible staff that can support operational changes.
"Although our managers are Vitro employees, we wanted a staffing company to handle the other operations," Corona says.
But Evans was not set up to offer staffing solutions for outside customers—it only staffed its own warehouses.
"Because we wanted to preserve our relationship with Vitro, we decided to extend the recruiting, training, and staffing services provided by our own human resources department," explains Leslie K. Ajlouny, vice president of business development for Evans Distribution Systems.
The solution offered two strategic advantages. First, the model ensured a smooth transition and a seamless, low-risk implementation.
Second, outsourcing the labor provided the immediate scalability often critical to support an increasingly uncertain automotive industry.
After the staffing discussion with Vitro, Evans launched Evans Resource Solutions (ERS), a staffing service that places logistics workers in temporary positions. ERS now provides Vitro with employees to handle a multitude of functions, from unloading railcars to picking up glass, putting it into machinery, completing product assembly, and loading outbound shipments.
Staffed to Meet Demand
Evans provided eight employees for Vitro when the DC first opened. Now, ERS supplies 58 workers, and expects to increase this number to 70 by the end of 2012. An overall increase in manufacturing, and new programs instituted by GM and Chrysler, drove the workforce expansion.
"We already know what we will be building next year for automotive customers," says Corona. "Programs come and go in this industry, but based on what customers have told us, we expect to increase our staffing by the end of 2012 to support those programs."
Hiring ERS employees provided Vitro with a reliable workforce, and the company plans to continue the relationship with Evans.
"Low turnover and absenteeism rates, safety, on-time delivery orders for our customers, and a great amount of flexibility to meet the fluctuating requirements of our automotive clients are some benefits we get from working with Evans," Corona says.