Keeping Surprises Out Of The Warehouse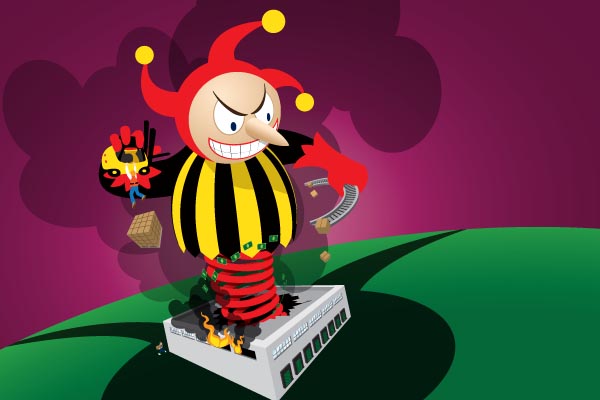 Warehousing risks can spring out at any moment. Some are meant to be shared, others avoided. Successful warehousing operations strike a balance.
Warehouses and third-party logistics providers (3PLs) continually evolve their service offerings to differentiate themselves in the market and meet rigorous customer demands. As they take on more responsibility, however, they also assume more risk. But the same is true for the organization that contracted for those services.
When it comes to the facility itself, and the technology and systems employed on behalf of a customer, 3PLs often look for some shared risk. "It comes down to the value proposition and the business case," says Gary Allen, vice president of innovation and product development for global contract logistics provider Exel. "Risks change with the service offering."
Unexpected surprises can pop up for both warehouse service providers and the companies using those services. But with a little planning and forethought you can mitigate their impact.
SURPRISE! LABOR MANAGEMENT ISSUES
With 100 million square feet of warehouse space around the world, Exel employs labor management systems in each facility it operates. Those systems, with their goal of continuous improvement, are crucial to Exel and its customers, says Allen. Because they manage down to the task and person, they provide metrics that not only measure performance on a specific customer contract, but also allow Exel to benchmark against its other operations.
Warehouse labor management is an area where 3PLs are often ahead of their customers on the technology curve, Allen says. But then, warehouse labor management is an opportunity for a warehouse operator the size of Exel to significantly boost efficiencies.
PAY FOR PLAY
3PLs need to ensure they get paid for everything they do for a customer—whether it's a transaction-based task, time spent, or even storage, notes Roger Falkenstein, senior sales representative for HighJump Software, an Eden Prairie, Minn.-based global provider of supply chain management solutions. 3PLs need to accurately capture every activity as it occurs, and ensure that information remains intact through the billing and auditing cycles.
Those key billing and audit trail systems not only provide opportunities to improve efficiency, they also ensure a 3PL doesn't lose track of all the activities and transactions it performs for a customer. Any outsourcing business posting thin or non-existent profit margins indicates a 3PL has won a contract and brought on a new customer without fully understanding the cost of the service it is providing, Falkenstein says.
Supply chains change continuously, giving rise to the term "scope creep." Nearly every 3PL has a story about how the scope of work it performed for a customer changed over time without being documented or billed. Sometimes the shift is not the 3PL customer's fault; it can be the result of requirements the customer's customer places on the 3PL.
SURPRISE! WHO PAYS FOR THE TECHNOLOGY?
3PL contracts covering conventional distribution facilities are often straightforward. But, if specialized materials handling and automation systems are part of the facility, a common approach is for the customer to pay a portion of the automation cost as part of its regular fees, or amortize the cost over the life of the service contract, explains Jim Handoush, co-chief operating officer for Landstar, a supply chain solutions provider based in Jacksonville, Fla.
Another way to ensure specialized materials handling systems don't become a cost burden is to install scalable systems, according to Tony Barr, vice president of marketing and business development for Beumer Corp., which specializes in high-capacity conveying applications. Scaling can be as simple as adding more trays to a core conveying system to increase throughput.
Systems are often specified to solve an immediate problem and provide some short-term gains, says Barr, but they should not impede the ability for future expansion or they could, in fact, constrain growth. Scalable systems drive volume growth and margins.
For the 3PL, scalable service may mean keeping pace with a customer's growth or adding customers to a multi-use facility. But scalability may also be a condition of the contract or an unspoken value that can tip the decision.
SURPRISE! WHO'S LIABLE FOR THE INVENTORY?
Exel has expanded its services into areas such as demand planning, which includes actually setting inventory levels for customers. Exel handles some procurement tasks, but doesn't acquire or take title to the goods.
The issue of inventory ownership occasionally comes up, admits Allen, but usually in a supply chain where the customer is seeking to replace a distributor or part of a distributor network. In those cases, the distributor sells goods on behalf of the supplier, which is not a standard role for a 3PL.
Trade situations also occur when a 3PL handling international transportation and warehousing may provide customs brokerage and other services that include assistance with letters of credit or temporary financing on inventory, but these services do not typically include a transfer of title.
When you store goods with an outside entity, such as a warehouse, the agreement falls under bailment law, explains Ann Christopher, vice president and general counsel for third-party logistics provider Kenco Logistic Services, Chattanooga, Tenn. The customer, who owns the goods, surrenders them to the 3PL for a period of time, after which the goods are to be returned to the customer.
Legal liability is one of the most important issues warehouse customers should understand, says Christopher. Under Article 7 of the Uniform Commercial Code (UCC), the warehouse operator is held to a reasonable care standard. "It's often called the negligence standard because warehouse liability is tied to the negligence of the warehouse operator," she explains.
That is an important point because a customer storing $1 million worth of inventory with a 3PL warehouse may be subject to some limitations in the event of a loss. The warehouseman's liability is tied to negligence, notes Christopher, and the contract can specify a limit on the amount per occurrence, per pallet, or per unit.
In the event of a catastrophic loss, the warehouseman's policy typically covers building and equipment losses, not the contents that are stored on behalf of a customer, unless the warehouse can be shown to be negligent.
An example of negligence is a warehouse that is not maintained to building and safety codes, or is located in an area subject to weather extremes and does not take appropriate actions to avoid damage to the property and its contents. The language of the warehouseman's insurance policy will be important in examining which risks are covered.
Additional areas of loss include crime and a category called "mysterious disappearance." Under a crime policy, explains Christopher, it is important to verify whether the loss of goods stored on behalf of a customer is covered, or if the policy only covers the property of the warehouse.
It is also important to note whether the standard set in the policy is "conviction" or "reasonable evidence of a crime." An inventory shortage is not likely to be considered reasonable evidence of a crime unless documents, photos, or video can link the shortage to a criminal act—even in the absence of a conviction.
Inventory management systems can be helpful in going back and tracing who had access to the system and who could manipulate the inventory data.
But about 80 percent of loss claims in a warehouse environment are mysterious disappearance, says Christopher. Mysterious disappearance is separate from crime coverage and may also have sub-limits.
Warehouse operators don't insure the goods they store; they insure their negligent acts, says Christopher. The warehouse has no insurable interest in the goods.
Another gray area is when goods are cross-docked—only handled in the facility and not stored. Are losses subject to cargo liability or the warehouse policy? Warehouse legal liability typically covers the goods within a specified distance from the facility, says Christopher. Again, it is important to examine the policy language.
The proximity issue raises questions about drop trailers. Are the goods considered to be in storage in the facility? Is the drop trailer waiting to be unloaded or picked up, or is it being used for overflow storage? Many warehouse policies cover overflow facilities for a specified period, but some require that the facility have a fixed address. Such nuances in language can make the difference in the event of a loss.
SURPRISE! YOUR 3PL CLOSES ITS DOORS...OR YOU DO
In the current economy, another area of risk has garnered attention: What happens when a company is unable to pay its warehouse bill or files for bankruptcy? A warehouse lien is a powerful tool that allows the warehouse to hold or dispose of the goods to satisfy what it is owed. But in some cases, the customer may have used the goods as collateral with a lender. The 3PL should ensure those collateral agreements are contingent on paying the warehouse's fees.
If the warehouse files for bankruptcy, the owner of the goods should be able to claim them because the warehouse has no ownership interest. The owner of the goods may still be subject to a warehouseman's lien, however, and will be required to pay all fees owed to the warehouse before being allowed to claim the goods.
It's important to note, explains Christopher, that a warehouseman's lien is much broader than a carrier's lien. A carrier can hold goods for payment subject to a limit on payment of charges and fees for that load.
A warehouse working as an intermediary needs to exercise reasonable custody, care, and control to ensure the entity actually storing the goods is doing an adequate job. This brings up another area of increasing interest as multiple logistics service providers may be involved under a lead logistics provider arrangement or through subcontracting for overflow storage.
The list of real and potential risks for a 3PL warehouse or its customer is nearly endless. With some due diligence, many major areas can be addressed at the beginning of the relationship and during frequent reviews and renewals.
Ensuring everyone understands the risks is only one part of the process. There should also be agreement on how all parties will share or mitigate those risks. That can help eliminate unwelcome surprises in the warehouse.