GTM: The World at Your Fingertips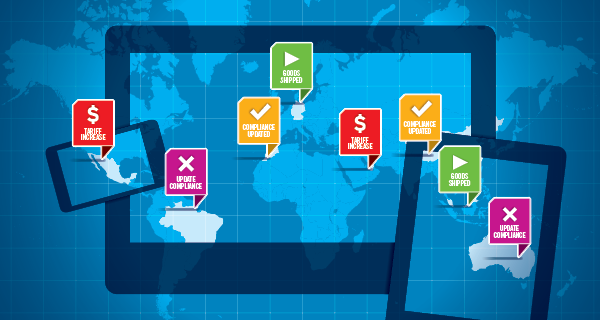 Global trade management software offers greater shipment visibility and control, eases the pain of border-crossing compliance, and streamlines financial transactions—all from your browser.
More to the Story:
The United States imported $2.3 trillion worth of goods and exported $1.6 trillion in 2012 alone, according to the U.S. Census Bureau. A big chunk of that volume moved between the United States and next-door neighbors Canada and Mexico. But the list of America's top trading partners includes countries in nearly every corner of the world—from Brazil to Germany, to Saudi Arabia, India, China, and Japan.
The sheer distances involved make global trade a formidable challenge. So do the myriad regulations that shippers must satisfy each time they move goods across a border. A company that masters the fine points of global trade management (GTM) can gain time, money, opportunity, and customer satisfaction.
Technology vendors offer a range of GTM solutions designed to help shippers whose businesses reach around the world.
Generally, a GTM solution addresses challenges in one or more of three major areas: the movement of goods, regulatory compliance, and financial transactions.
Many concerns that companies face in global trade mirror the ones they encounter in domestic shipments. Shippers need to execute transactions with vendors, service providers, and customers. They need to route their freight with an eye toward balancing speed, efficiency, and cost. And they need to maintain visibility to the status of their goods all along the supply chain.
These challenges grow tougher when goods travel long distances and move across borders. For one thing, international sourcing and routing decisions depend on more variables.
For example, when choosing an overseas supplier, manufacturing costs make up only part of the cost equation. "You often have to factor in the duty implications," says Melissa Irmen, senior vice president of products and strategies at Integration Point, a Charlotte, N.C.-based GTM solutions vendor.
You might have to pay higher import taxes on goods made in one country than in another. And when choosing how to route shipments, you might consider how to take advantage of local opportunities such as foreign trade zones (FTZs) or preferential duty arrangements.
"The planning stage takes into consideration many factors, such as total landed costs, duties, taxes, fees, free trade agreement elements, and customs warehousing," says Ty Bordner, vice president, product management and solutions consulting at Amber Road, a GTM solutions provider based in Rutherford, N.J.
THE COMPLETE PICTURE
GTM solutions that incorporate real-time databases of duties, tariffs, and other charges—plus information on exemptions for certain kinds of moves—help shippers calculate complete landed costs. It's especially important to be able to integrate the per-unit cost of goods with transportation costs and duty implications. "If you can incorporate those costs in one place, then you get the complete picture with one look," says Irmen.
Global trade is also complex because it involves multiple transportation modes. A truck takes a shipment to an airport or seaport, where it's loaded onto a plane or ship for the long haul. Then the shipment moves onto another truck, or a train, for further transportation.
"Having software systems that can connect those modes is important, so you know where your goods are in transit at an order level," says Peter Starvaski, director of product management at Kewill, a software vendor based in Chelmsford, Mass.
Visibility to order and shipment status is important in any supply chain. But gaining a complete view is hard when goods travel long distances, across borders, and on multiple transportation modes, aided by several service partners. "Multiple customs brokers, freight forwarders, and third-party logistics (3PL) providers are all involved in global transportation," says Greg Kefer, vice president of corporate marketing at software provider GT Nexus, Oakland, Calif.
Without a GTM solution, companies might find only pockets of visibility. "A 3PL or ocean carrier in Hong Kong might be particularly effective because they offer a robust visibility platform on their Web site," Kefer says. But it takes a complete GTM solution to provide real visibility.
"A complete solution assembles a full 360-degree, high-definition picture," he says. "You can type in a purchase order number and, in 10 seconds, see where it is—with links to all the related players, documents, and events."
If you can learn everything about an order almost instantly, you can respond to a disruption or take advantage of a new opportunity. And that could provide a return on investment worth millions or tens of millions of dollars.
To appreciate this fact, consider how recent disasters, such as the 2011 earthquake and tsunami in Japan, and floods in Thailand, upset global supply chains. "Companies that can't respond quickly to adjust, albeit temporarily, to a new world order will suffer," Kefer says.
With a GTM solution to provide a complete picture of the global supply chain, a company can better manage its inventory. "When a company doesn't know where inventory is, or when it is going to arrive, safety stock levels rise," says Bordner.
Shippers also can plan for the future using historical data the software accumulates about shipments. "You can use that data to identify and improve bottlenecks, and find cost reductions," Bordner adds.
Requirements and Regulations
Every shipment that crosses an international border adds a layer of complexity that doesn't apply to domestic shipments at all. Global shippers need to complete customs filings, pay tariffs and duties, comply with a host of security regulations, and obtain licenses for importing certain products. Every country has its own regulations concerning both imports and exports, and these may change at any time.
"Just understanding who you can ship to is difficult," says Anne van de Heetkamp, director of global trade and compliance for Atlanta-based Aptean, which offers the TradeBeam GTM solution.
The United States and other countries maintain lists of people and companies that are barred from import or export transactions. Shippers must screen for those "denied parties" before they ship, and errors can lead to major fines. "Governments are stringently enforcing these screenings," van de Heetkamp says.
"Every government puts its own spin on denied-party screening," notes Ken Peters, director of global solutions at Integration Point. "Each maintains its own sets of lists that shippers need to screen against."
Certain products, such as agricultural commodities and pharmaceuticals, come with specific obligations for importers and exporters. "Shippers have to make sure the appropriate licenses are available, or their goods will get stuck at the border," says van de Heetkamp.
The rules that apply to imports and exports around the world change constantly. "That's where software comes in," says Starvaski. Instead of poring through hundreds of pages of regulations, and working constantly to keep those reference sources up to date, shippers can rely on software systems to stay current with—and correctly apply—tariffs, duties, and regulations.
Real-time Updates
Many GTM solutions incorporate databases that cover nearly any obligation that might come into play for an international shipment. They update this "trade content" continuously, so that any time a shipper executes a transaction, the software applies the latest information automatically.
"If a new restricted party is added, then the next shipment will immediately screen against that party," says van de Heetkamp. "If duty rates change, then the next landed cost calculation will apply the new rate."
Besides keeping companies on the right side of the law, the compliance functions in GTM solutions help shippers operate more efficiently. They do this by automating filings that shippers might have performed manually in the past.
One advantage this offers is the ability to eliminate steps from the filing process. For example, when a company moves product between two countries bound by a free trade agreement, the shipper must file certain documents when sourcing the goods. The shipper also provides some of the same information when it's time to import. But when using a GTM system, the company needs to record that data only once.
"At the same time you're gathering the information to go through your exporting authority in Country A, you're also providing the trade agreement proof that the importing country needs," says Irmen.
GTM software also helps ensure that goods don't get held up at borders. "Automating the border-crossing process and workflow interjects consistency and continuity into the flow of information," says Peters. "And government agencies love consistency."
That holds true whether the GTM solution produces an electronic filing or simply automates the job of producing paper documents. "If the process stays the same every time, Customs will get used to that flow and shipments will speed through," he says. "And maybe your product will get to market faster than your competitors."
Some governments are starting to mandate that shippers file certain documents electronically, and GTM software helps with that as well. "Electronic filing for exports is now mandatory in the United States, and other countries are following suit," says Starvaski. "And if countries are not mandating it, they're at least providing electronic filing capabilities."
When shippers file electronically, they can take advantage of new customs agency programs designed to speed border crossings. "Customs agencies are offering to conduct pre-screenings and pre-clearances, but shippers need to get that data to them earlier in the process," says Irmen.
U.S. Customs and Border Protection, for instance, is creating "centers of excellence" to centralize the entry process for specific kinds of goods. "For example, electronics shipments are handled by screeners trained in the intricacies specific to those products," Irmen says. "The same people look at the data, regardless of the port of entry."
The Money Picture
The finance aspect of GTM involves distributing orders, collecting commercial invoices, then paying suppliers quickly. One set of financial challenges connected with international trade arises from overseas manufacturers needing capital to produce the goods ordered.
Traditionally, a company would place an order for widgets with an overseas supplier, who would make and ship the product, then send an invoice. After 30 or 45 days, the buyer would cut a check.
"Forty-five days is a long time, when the supplier had to buy the metal to make the widgets," Kefer says. "Suppliers want that cash sooner."
To help the supplier, the buyer might send a letter of credit to a bank. The bank would advance money to the supplier, and when the buyer received the goods, it would reimburse the bank. But because each letter of credit involves a fee, that practice becomes expensive.
Some GTM systems, including GT Nexus, provide an alternative by linking financial transactions to movements in the physical world. Say, for example, that a supplier has filled an order for widgets. The GTM system indicates that the supplier has given those goods to an ocean carrier, which has loaded them onto a bonded vessel.
"Based on that proof of performance, a bank might pay the supplier, minus two percent of the invoice amount," Kefer says. "The bank then tells the buyer, 'We'll take care of this now, and you can pay us what you were going to pay anyway, on your normal terms.' The bank keeps the two-percent difference."
SINGLE VERSION OF THE TRUTH
When all parties to the transaction are linked through a cloud-based GTM system, the information and money flow seamlessly among them. "All partners get a single version of the truth to minimize discrepancies and disputes," Kefer says. "Exhaustive audit trails are created for different documents and events. The whole process moves more smoothly."
Given the distances and complexities involved, global trade management will never be a foolproof process. But GTM solutions vendors are doing their best to streamline the flow of goods, money, and information.