Global Trade Plateau?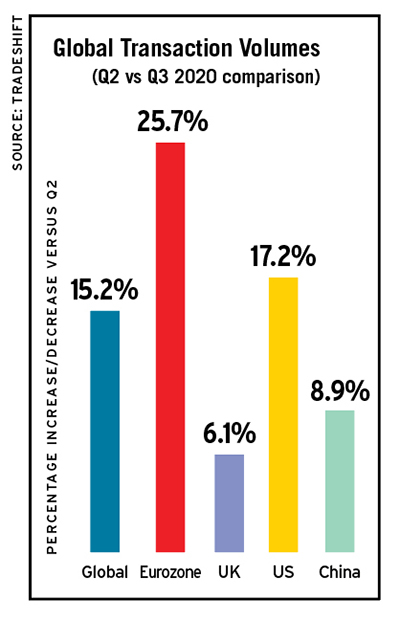 Order volumes in Western economies have grown significantly, but momentum may be slowing, finds Tradeshift's Index of Global Trade Health. The report finds:
Global trade activity rose 15.2% in Q3 2020 compared to Q2.
The Eurozone was the strongest performer in Q3.
Transaction volumes in the United States exceeded the global average, increasing 17.2% compared to Q2.
Pent-up demand after lockdown sparked an 85.5% increase in orders in July 2020 compared to the monthly average in Q2.
The U.K. had a more difficult Q3, with transaction volumes up only 6.1%.
China showed signs of plateauing in Q3 with trade activity up 8.9% compared to a strong Q2.
While order volumes grew 20.1% in Q3, the amount of money going to suppliers hasn't increased at the same rate. Invoice volumes grew 14.1% in Q3.
Retail activity rose by the largest margin across all sectors. Transaction volumes rose 78% in July as stores reopened.
The manufacturing and logistics sectors performed well throughout Q3.
Activity in the healthcare sector dipped in Q3 as supply chains settled following a period of volatility.