Global Trade Management Systems: You've Got the Whole World in Your Hands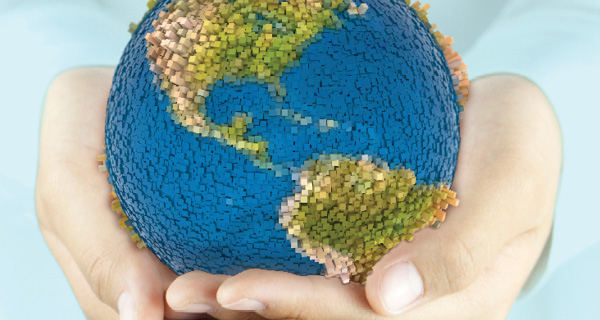 Shippers grab hold of GTM solutions to streamline imports/exports, ensure trade law compliance, and keep shipments moving across borders everywhere on the planet.
Global trade management (GTM) systems traditionally have focused on helping organizations comply with the myriad regulations governing how components and products cross borders. While compliance remains a key feature, many GTM systems providers are adding new capabilities. Some GTM systems, for instance, have broadened the concept of compliance to include checking that products were made, packaged, and/or shipped within the user's parameters.
Some GTM systems also are adding tools that can help coordinate the physical flow of goods, provide visibility to inventory and products, check whether certain materials qualify for preferential treatment under a trade agreement, and help with settlement processes.
And the industry continues to mature. "Not too many GTM systems can truly manage the compliance intricacies of a supply chain across the world from, say, an office in Cleveland," notes Doug Zuvich, global leader for the trade and customs services practice of professional services firm KPMG.
Even so, the advances to date can provide compelling benefits. For instance, real-time visibility into a supply chain lets companies "continuously modify their plan to reflect operational reality," says William Sears, managing executive, managed services, with Resolve Solution Partners in Johannesburg, South Africa. Real-time visibility can shorten the lead times required to move products through the supply chain, he adds.
But even as they improve their physical and financial supply chains, and use the information contained within them to better compete, organizations still want to ensure they comply with relevant rules and regulations. "The market has gone from playing defense to figuring out how to also play offense," says Rosalie Cmelak, director, supply chain product strategy for Oracle, which provides cloud applications and platform services.
One driver behind this shift is advancing technology, says Ann Grackin, CEO of ChainLink Research in Newton, Mass. The robust platforms that can handle the many demands placed on GTM systems today weren't around even one decade ago.
The evolution of cloud computing has helped as well. Solutions are "faster to deploy and offer a lower total cost of ownership," Cmelak says.
The shift to the cloud is important for another reason: Companies can use GTM systems to create networks of suppliers, customs brokers, freight forwarders, third-party logistics providers, and others in their supply chain. "The systems let many supply chain participants come together dynamically," says Greg Brady, chief executive officer for ONE Network, a Dallas-based supply chain management networks provider.
Other technical advances, such as the ability to integrate systems through application programming interfaces, have made it easier to link GTM applications with enterprise resource planning and other supply chain systems.
Consumer demands for more information about the products they're purchasing also are prompting new GTM capabilities. Consumers want to ensure the products they buy were made in factories that don't use child labor, or come from farms that don't use GMOs. To provide that information, companies need supply chain visibility.
Visibility also can help companies rein in product costs by, for instance, identifying components qualifying for preferential treatment under free trade agreements (FTAs). "Incorporating FTAs and duty rates can provide some definite competitive advantages," notes Anne van de Heetkamp, product leader for Tradebeam, a cloud-based GTM systems provider.
In addition, visibility can help organizations quickly determine how best to handle the hiccups that inevitably arise when sourcing and selling around the globe. Brady provides an example: A company engages five suppliers in Asia to produce and transport 1,000 purses to Europe within six weeks. Three weeks in, one vendor says it needs several extra days to make its allotment. The company must then decide whether to hold all shipments to wait for that vendor, or go ahead with separate shipments. Visibility is key to making an intelligent decision.
Global SCM Software Market Out of This World
The global trade management software market was estimated to be worth $8.3 billion in 2012 (up 7.1 percent year on year), and is expected to soar to $13.4 billion by 2017.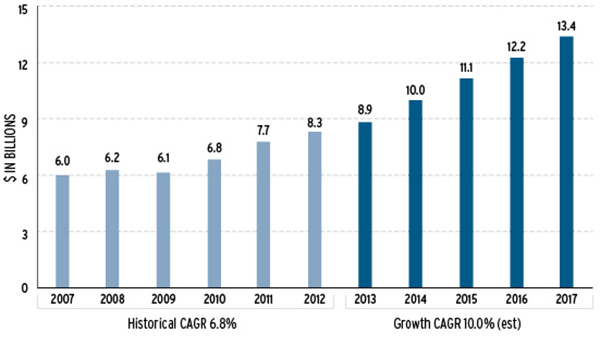 Source: West Monroe Sustainability Survey
Starting small
While larger companies, often in heavily regulated industries, tend to be among the first to leverage shifts in the GTM market, small firms aren't left out of the picture. Many start by implementing specific modules, such as those that screen potential business partners against terrorism watch lists. "The ROI threshold to purchase the software keeps dropping," says Virginia Thompson, vice president of product management for compliance software provider Integration Point.
While GTM systems continue to advance, companies evaluating and implementing them should keep several principles in mind. First, "systems are one element of the solution," Zuvich says. "The other elements are strategy, people, organization, and processes."
Before considering a GTM system, management needs to know the regulations governing its operations. "You have to know your business and the rules that impact it, so you can implement the right solution," says Beth Pride, president of BPE Global, an import and export compliance consultancy.
CHOOSING A GTM SYSTEM
When evaluating a GTM system, pay attention to these attributes:
Scalability and flexibility: "Think not just about today, but tomorrow," Thompson says. For instance, a company may start with a compliance database, and then add the ability to analyze foreign trade zones.
Comprehensiveness: GTM information residing in a single system uses the same processes, and can be updated at one time, as new information is received. Conversely, when information is scattered across disparate systems and must be brought together, "the probability of data errors rises," says Wayne Slossberg, senior vice president of QuestaWeb, a web-based global trade management solutions provider.
Credible regulatory information: Check the source of regulatory data. For instance, printed guidance often becomes outdated without warning. When available, the ideal source is a government agency subscription that pushes updates to users.
Provide benefit even when vendors don't participate: Some vendors may only be able to email invoices, rather than enter them into a GTM system. The user should be able to enter that information as if the supplier actually had transmitted invoices directly into the system.
Automation: To boost efficiency, the system should automate as much of the paperwork as possible.
Business rules: The ability to incorporate business rules can help with automation and compliance. For instance, a GTM system "should be able to auto-populate any documents—such as bills of lading and invoices—necessary for moving goods," Slossberg says.

The business rules integrated in a GTM system also can aid compliance by checking that products ship with required permits.

Visibility: A company should be able to obtain information on the inventory and products being handled by supply chain partners, and all parties should be able to operate off the same information.

Greg Kefer, vice president of corporate marketing with GT Nexus, which provides a cloud-based collaboration platform, offers an example: When Icelandic volcano Eyjafjallajökull erupted in 2010, its ash disrupted air travel across parts of Europe for approximately one week.

"Some companies had very limited visibility into their supply chain," he says. That hindered their ability to quickly re-route products. "But those that had the information got a head start in locking up air capacity in zones unaffected by the ash."

Collaboration capabilities: "We see a need for greater collaboration with suppliers and other business partners," says Gary Barraco, director of global product marketing for Amber Road, a provider of GTM solutions. That way, suppliers can leverage the information relevant to them in the GTM system, such as tariff classifications or shipment tracking, boosting the supply chain's overall effectiveness.
Integration capabilities: Most GTM systems have to connect with ERP or other corporate systems. The IT department typically can help determine how—and how smoothly—this can happen.
Reporting and analytics: GTM software should produce reports that let management know what's working, and what's not, within the supply chain.
"GTM systems are tools to empower the global trade functions within an organization," Zuvich says. "They add incremental value across the business."