Demand-Driven Logistics: Remote Control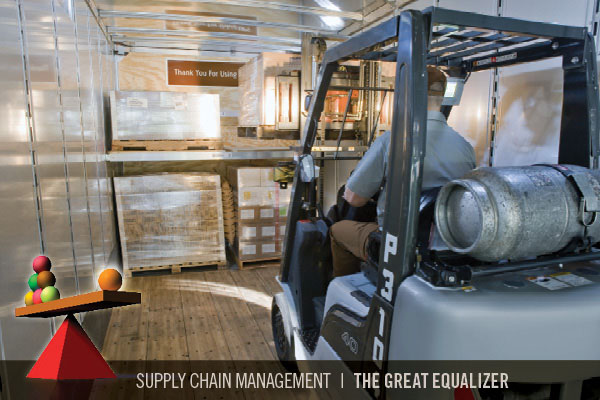 Adopting demand-driven logistics can increase visibility, drive supply chain efficiency, and offset any market advantage your competitors might have.
More to the Story:
Shippers in today's economic climate face myriad challenges over which they have little or no control: consumer behavior, fluctuating fuel costs, supply chain disruptions, and capacity and labor availability. Many of these variables are, at best, difficult to predict. Consequently, they force supply chains to function reactively.
But companies don't have to follow the herd. As much as market volatility breeds complacency and risk-averse decision-making, it also raises the stakes for shippers to seize control of their supply chains where there are opportunities to do so—to identify, anticipate, manipulate, and manage change, and leverage this demand responsiveness as a competitive differentiator.
Adapting demand-driven logistics principles empowers shippers to drive collaboration across different functional areas; engage customers, suppliers, and third-party intermediaries more closely; and broadly drive out costs and inefficiencies within their supply chains.
By controlling decision-making and dictating actions downstream from origin, companies grow more responsive to demand and nimble to change. It allows them the structure to optimize what is known, and the flexibility to adapt to countless unknowns. Visibility is a key enabler in this paradigm shift. Yet it also remains a sticking point.
"Usually the first pain point shippers face is visibility to control their inventory and react to different situations," says Janet Guinn, manager, TMS Engineering, in IBM's Sterling Commerce division. "The secondary consideration is cost."
When companies don't have visibility to inbound flows, or can't align supply to demand signals, costs can quickly spiral out of control.
Transportation management systems (TMS) and supply chain visibility tools provide shippers with a common platform to share information and manage transportation and logistics processes throughout the network. Having data in one repository that feeds upstream planning and analysis helps facilitate demand-driven logistics. While companies are using technology to move in this direction, control remains elusive for many businesses.
"Demand-driven logistics has not yet been widely adopted," says Jaris Briski, senior vice president of business development and parcel at GENCO, a Pittsburgh-based third-party logistics (3PL) provider. "Shippers may manage only certain subsets of inbound materials procurement."
Without a true demand-driven vibe coursing through the supply chain, shippers are likely to adapt parts, rather than optimize the whole. Companies struggle when siloed functions aren't in sync—a lack of alignment creates slack in the form of additional inventory, time, and cost.
Most companies successfully manage outbound transportation and distribution processes, largely because they directly impact the end customer. When something goes awry, there is an immediate and obvious consequence. With a demand-driven logistics approach, impacts are more subtle, and build gradually over the entire order cycle. That's why it requires a holistic perspective, and often a paradigm shift within the organization—one that likely doesn't occur without executive mandate or a push from 3PLs.
The Power of Pull
"Sometimes the ability to successfully run a demand-driven operation depends on whether a strong enough stake exists within the enterprise to control the inbound supply line," says Briski. "If the top of the organization isn't interested in inbound logistics or procurement, it becomes a moot point. Once you get past that obstacle, it comes down to having the technology to evaluate how best to create visibility and control."
Transportation is an obvious flash point for companies that struggle with supply chain visibility, simply because transport costs have a tendency to creep. By contrast, when shippers are able to accurately forecast demand farther out, they have more flexibility to mix and match transportation options to meet their need.
For shippers and consignees sourcing globally, failing to communicate with upstream partners can create any number of inefficiencies and costs. That's why companies are driven to reach deeper into the supply chain and work more closely with suppliers and manufacturers to fine-tune production systems and make sure they are in lockstep with downstream processes.
Collaborative Efforts
Briski compares this disposition to how suppliers might interact with customers. "Suppliers should be aware of, and intimately clued into, customer needs," he says. "Then they can take a mirror-image approach upstream with their suppliers to achieve the most effective and confident supply chain."
"Sometimes the ability to successfully run a demand-driven operation depends on whether a strong enough stake exists within the enterprise to control the inbound supply line." — Jaris Briski, senior vice president of business development and parcel, GENCO
When consignees and suppliers achieve this level of collaboration, they are better positioned to decide who should manage transportation and control cost. This is where a 3PL's objectivity and expertise can help push value even further.
For example, if a company is purchasing a high volume of product from a supplier, and that supplier is fulfilling 10 purchase orders, it may not know how to sequence those shipments. GENCO has had success bridging that gap by taking the real-time signal from the customer, and coordinating transportation so that orders are properly sequenced in order of priority.
In a similar fashion, Waltham, Mass.-based 3PL ModusLink Global Solutions has helped engineer demand-driven solutions for high-tech shippers that allow them to better manage short lifecycles in a competitive environment.
Offshore manufacturing is a normal course of business for many high-tech companies. As supplier networks become more complex, shippers are challenged with managing inventory levels.
Traditionally, high-tech shippers might wait for product to fill a container before shipping it, which often triggers a swell of inventory in the system. As they seek to reduce total costs, that model is changing.
Looking at the Little Picture
"There has been growth in consolidation hubs in China and Hong Kong, located at ports closer to the point of origin," says Eoghan Dillon, supply chain solutions manager at ModusLink. "Companies are taking smaller quantities from each of their suppliers, consolidating them into containers, then shipping."
In effect, shippers are following a "little-and-often" approach that is predicated on point-of-origin collaboration and consolidation to move smaller quantities more frequently, as needed. Such an approach eliminates large minimum order quantity constraints, and reduces total inventory within the system.
It's a more sophisticated play that challenges the way companies manage their supply chains. It tears down operational walls, because ordering smaller quantities from suppliers often requires process changes and/or incurs higher costs. Shippers have to be able to see the bigger picture to recognize the total impact.
"Purchasing managers want large volumes of product at the lowest cost," says Dillon. "But that increases supply chain inventory. Demand-driven logistics, in contrast, aims to reduce inventory."
Shipping smaller order quantities directly impacts transportation. "Instead of shipping full containers of one particular product or from one particular supplier, companies need to consider sharing containers and consolidating mixed loads," Dillon explains.
Predictive Flexibility
That's why collaboration is the essence of demand-driven logistics. Success requires different operational functions to work together. With greater visibility downstream and upstream, organizations can align and orchestrate their supply chains around this common goal.
Even on a smaller scale and at the local level, demand-driven logistics pays dividends. When Dublin, Ga.-based SP Fiber Technologies, a producer of high-quality newsprint and paperboard, partnered with RVCii two years ago, it was looking for a 3PL that could build, then execute a new purchase order (PO) management system.
The processor operates two mills—located in Dublin and Newberg, Ore.—that produce more than one million tons of product annually, half of which is recycled. Because it's a commodity-driven business, managing transportation costs is critical to the bottom line.
RVCii—a Columbus, Ohio-based independent third-party brokerage agent of TTS, a 3PL in Dallas—engineered a proprietary PO management system called SCM Logic. It provides SP Fiber with a Web-based platform for all its suppliers, recyclers, and contracted carriers. Partners can sign into the portal, view their individual purchase order plan numbers, and schedule releases within the system. SCM Logic then tenders orders automatically via EDI to carriers specified in the routing guide.
The system also includes functionality to send alerts and notices to the 100-plus partners in the network if exceptions arise or demand changes.
SCM Logic is a PO system in the truest sense, says Steve Davis, director of operations, RVCii. It helps regulate the flow of raw materials coming into the mill. But in addition to these core capabilities, SP Fiber uses the system as a de facto TMS to dispatch loads, track and trace orders, and provide visibility to all partners in the network.
The PO system provides RVCii with the necessary visibility to marry inbound and outbound loads, which helps dispatch capacity in certain remote areas. For example, SCM Logic works with a small recycler in Arkansas that sends one or two loads per week inbound. In order to serve that location, RVCii must find a truck willing to go there. SCM Logic provides RVCii with the visibility to coordinate continuous moves. When that truck brings scrap back, the 3PL can marry it with a reload for that market, so it continually captures and maintains capacity.
As pressure mounts to optimize supply chain functions amid countless market uncertainties, inbound logistics presents a path toward continuous improvement.
RVCii constantly updates the system with new information, such as carrier rates, and sends SP Fiber regular reports about inbound supply forecasts. Based on the cost of commodities being moved, shippers may react differently depending on whether prices are trending up or down. If a supplier is sending seven boxcars of freight at a given time, and SP Fiber knows it can't accommodate that much volume at its mill, it can stagger or delay those moves.
"The system allows SP Fiber visibility to see what its shippers are doing," says Davis.
SCM Logic demonstrates how technology can act as a force equalizer by aggregating shipment information and providing a common platform that feeds decision-making throughout SP Fiber's supply chain. It's not as sophisticated as some of the systems other industries use, but it serves a distinct purpose—enabling the paper mill and RVCii to control inbound material flows and transportation costs.
Beyond Transportation
While transportation often presents the lowest-hanging fruit in terms of potential gains from an inbound logistics directive, impacts are felt in countless ways throughout the supply chain. At its root, demand-driven logistics facilitates collaboration within companies and across the extended value chain—and this has a direct impact on inventory control.
"Purchasing agents, materials requirement and store inventory planners, and transportation managers can all work together with visibility tools to react to demand and best position product," says Guinn. "In the past, information had to go through set supply chain tunnels that no one had visibility to. Consequently, inventory increased and supply chains became longer. Now the functions are reacting to demand in real time together."
Distribution and warehousing is another important beneficiary. E-commerce is changing the retail paradigm, and demand responsiveness is a critical success factor as companies look to capture market share. A number of consumer electronics companies are reconsidering the traditional model with inbound control in mind.
"If electronics companies have visibility and understand demand, they may be able to pull out of the local DC and deliver direct-to-consumer from Asia, cutting out a distribution piece," Dillon says.
Demand-driven logistics also pays some green—both in terms of sustainability and cost savings—especially for high-value shippers that are exclusively using air freight to move product.
"Ninety percent of the value of a mobile phone shipment, for example, represents 20 to 30 percent of the package's weight," says Dillon. "Shipping finished product by air from China to the United States wastes shipping costs. All the other components in the box are low value and don't need to be shipped via air."
Companies can segment the parts, differentiate by mode and need, then marry components together at a fulfillment location closer to demand. This approach maintains responsiveness at a lower cost, while also reducing carbon footprint.
The justifications for engineering demand-driven supply chains are manifold. Companies often control different pieces independently, or without seeing the bigger picture. The recognition that inbound flows at different supply chain touchpoints influence processes downstream—and that any change in demand can tip the equilibrium—is critical to leveraging this strategy as a change agent.
As pressure mounts to optimize supply chain functions amid countless market uncertainties, inbound logistics presents a path toward continuous improvement. It provides consignees with the directive to measure performance, identify problem areas, and execute solutions holistically, understanding how individual functional parts complement the entire supply chain.
"By taking this approach to a granular level, identifying why a shipment doesn't arrive when it should, companies begin to understand cycle times at every interval in the inbound supply chain—from supplier notification to shipment release, carrier notification, and pick up. They can then find ways to reduce waste," explains Briski.
That is the power of control.