Cross-Border Champion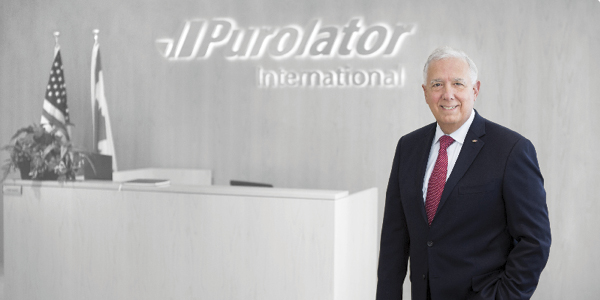 More to the Story:
John Costanzo works in the thick of the world's largest trading relationship—the one between the United States and Canada. At Purolator International in Jericho, N.Y., a wholly owned subsidiary of Canadian company Purolator Inc., the core mission is helping U.S. businesses move goods to customers north of the border. Its services take advantage of logistics networks in both countries, including the extensive Canadian networks of Purolator Inc. and its parent, Canada Post. Costanzo talked with us about his work at Purolator and how he has developed his leadership strategies over a long logistics career.
IL: How did you get into logistics?
After completing my military reserve duty obligation, I worked for the U.S. Postal Service while putting myself through college. I was a part-time floater, working at a little bit of everything. My objective was to get out of the delivery business and into a 'real' profession, maybe by going to law school. But after graduation, because I was a married man, I felt I needed a job. One of the best opportunities I found was with the company then called Emery Air Freight. So I joined their sales organization in New York City.
Emery provided a tremendous business education. Working for a broad-based forwarder, I got to know what makes companies tick in all different industries. I also had an opportunity to move into the international arena, which helped expand my perspective on global trade. Logistics is a great field. It has kept me interested and challenged for a long time.
IL: Where do the significant opportunities lie for Purolator International today?
E-commerce is exploding not only in the United States, but in Canada as well. Shipments generated by e-commerce make up nearly half of our business out of the United States. We're also getting more traction in certain vertical industries, such as aviation and medical devices.
IL: What are the biggest business challenges that Purolator International and your customers face these days?
One issue our customers are dealing with is the strong U.S. dollar, which has made exports expensive. American products cost 20 percent more for Canadians than they did one year ago, and that has impacted our customers' sales. We have to help them improve their supply chains into Canada, and other markets, in a way that offsets that decline in business.
For example, many clients serve the Canadian market with individual shipments, sending one package at a time out of distribution centers in the States. There are more efficient ways to move products—for example, forwarding them as consolidated air or surface freight shipments, and then distributing within our network in Canada, saving considerably on the total cost of transportation and clearance. A company might think it serves its Canadian customers well by shipping orders from a DC in Toronto, when it could actually do better from a DC in the United States.
IL: What early experiences helped shape the kind of leader you are today?
One lesson I learned as a young salesperson, and have carried with me ever since, is the importance of listening to customers and developing solutions that fix their problems, not just offering the industry's 'latest and greatest.'
A good example was when I was president and CEO of InterPost. Our marketing team wanted to make a splash at a big trade show by launching a fulfillment service for every part of a global marketing campaign. I suggested running focus groups to determine if this solution would help solve a problem for our customers.
We found out that it was of little interest. Our customers' biggest challenge was lack of visibility into the delivery of their magazines and catalogs. This was their most important touchpoint with their customers, but they didn't know how it was impacting sales. So we developed and introduced the first global mail tracking system for magazines, catalogs, and other periodicals, and a service that provided feedback directly from customers on the condition and timeliness of their deliveries. It was exactly the service they needed.
IL: How would you describe your leadership style?
I've taken all those Myers-Briggs exams and they always come out the same: I'm directive, but people-oriented. I listen to people. I care a lot about our employees and their families. In a service industry, you can't be successful without good people who trust you and know that you trust them. Since the day I joined Purolator in 2001, we've been doing employee surveys to get a feel for what our people think and how they're doing. Our goal is to get 85-percent positive ratings in that survey. In 2015 we reached 77 percent, the highest ever. That puts us just one notch away from our goal.
IL: What gets you excited about going to work these days?
The United States does about $600 billion in business with Canada annually, with trade flowing about equally in each direction. That includes approximately $10 billion to $15 billion in logistics spending for products moving to and from Canada. It's exciting for me, and for everyone who works here, to be at the front edge of such a big opportunity.
I'm also excited about the new products we've been developing for some of our market sectors. Working closely with Canada Post, we've launched an e-commerce service called PuroPost, which guarantees delivery in two to eight days, and pre-calculates all duties and taxes for the end customer. We also started a new service that delivers parts for aircraft repairs, to get planes back in the air as quickly as possible.
IL: What leaders inspire you most?
Jack Kennedy has always been one of my great heroes. He inspired people about what was possible. When I was a young man, that really caught my attention, along with the attention of the whole country. I wish he had lived longer. He would have done great things.