Chemical Logistics: Formula for Success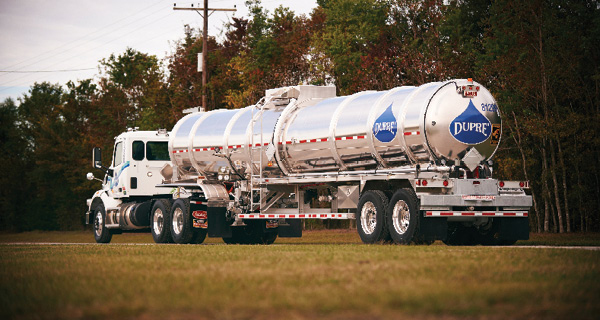 As the chemical industry continues to grow, shippers and their service partners work hard to keep product moving, trouble-free.
Take the 859 million tons of chemicals that U.S. companies shipped in 2014, load that volume onto rail cars, and you'd fill enough cars to circle the globe three times, says the American Chemistry Council (ACC). The $801-billion U.S. chemical industry represents 15 percent of the world's chemical production, according to the industry organization. And the chemical business is set to expand in the next few years.
U.S. chemical production will grow by 2.9 percent in 2016 and 4.4 percent in 2017, predicts the ACC in its report, Year-End 2015 Chemical Industry Situation and Outlook. That rise corresponds with an increase in manufacturing capacity: Since 2010, companies have announced more than 261 new chemical production projects worth a total of $158 billion, reports the ACC.
An industry of such magnitude makes a major impact on logistics.
Logistics services for chemical companies will grow by five to six percent by 2019, according to a 2015 report by London-based Technavio Research. "We expect this market to reach between $450 billion and $500 billion by 2019," says Sharan Raj, lead analyst with Technavio's transportation and logistics team. That's up from an estimated $350 billion in 2014.
Of that total, North America's share is $50 billion to $70 billion and is set to grow by 3 percent, Raj says.
Chemical producers increasingly outsource logistics functions to third-party logistics (3PL) providers. They make that choice, in part, because they want to leave logistics functions to companies with the expertise and infrastructure.
"Chemicals are a complex supply chain," Raj observes. "Each region, state, and country has different rules and regulations regarding chemical goods transport." Outsourcing is the best way to gain efficiencies.
Logistics outsourcing is on the rise, agrees Christopher Wright, vice president, sales and marketing at Rinchem Company, a global, asset-based chemical 3PL with headquarters in Albuquerque. "Large chemical manufacturers are merging or purchasing other large chemical firms," he says. "As a result, many firms are acquiring businesses with highly regulated, complex chemical supply chains."
After consolidation, a chemical company might find itself shipping and storing products that it has never handled before. It would take years to develop the in-house logistics expertise those products require, "so it ends up outsourcing to an experienced partner," Wright says.
As they form relationships with 3PLs, chemical shippers bargain hard on price. "There is a sustained pressure from the customer to keep prices low," Raj says. "And shippers demand value-added services at no additional cost."
Handling Hazmat
Companies that produce, distribute, and transport chemicals deal with many of the same logistics concerns—transportation capacity, government regulation, safety—that affect their colleagues in other industries. But for chemical firms, those issues have their own special flavor.
Among them, safety concerns are paramount. "The majority of our freight is hazardous," notes John Adams, director of logistics and business analytics at Hydrite Chemical Company. Based in Brookfield, Wis., Hydrite started life as a chemical distributor, but over the past decade it has added manufacturing facilities in the Midwest and California. Using both a private fleet and common carriers, Hydrite ships products to customers in industrial production; agriculture; biofuels; food processing; graphic arts; oil and gas; paints, coatings, inks, and adhesives; and pulp and paper.
A business that deals in hazardous materials (hazmat) can't take transportation lightly. "We have to vet our carriers a little more," Adams says. "There aren't a lot of 'call and haul' situations; there are a lot of long-term relationships."
Hydrite has developed an audit process to monitor whether its transportation partners uphold the necessary safety standards. "A compliance manager in our facility works with carriers to make sure they're up to date on their hazmat and other requirements, along with insurance," Adams says.
"To keep the world safe and protect the environment, governments have developed strict laws and regulations related to the transport, handling, storage, and segregation of dangerous goods," says Wright. "Rinchem views these regulations as a necessary part of global logistics, and we take pride in compliance."
Exceeding Expectations
Regulations pertaining to chemical safety can vary from country to country, and sometimes even from community to community. For example, local fire departments might interpret applicable laws differently. Rinchem meets these challenges by often exceeding expectations. "We adopt a high global standard, and apply it everywhere," Wright says.
Countries in the Asia Pacific region have tightened and refined their regulations for handling chemicals over the past 18 months, following accidents in Tianjin China, Singapore, and South Korea.
"At the end of 2015, China sent a delegation to meet with Rinchem's executive team and benchmark industry best practices," says Wright. Regulations are bound to evolve even further in that region. "When accidents of a significant scale occur, legislation is sure to follow," he adds.
Whatever the regulations require, Rinchem wants to develop the safest supply chains in the world. "Any workplace injury or accident is unacceptable," Wright says. Rinchem meets the challenge through training and developing a culture focused on safety, he adds.
Rinchem specializes in handling high-purity, prepackaged chemicals and gases for the semiconductor and electronics, specialty chemical, specialty gas, life sciences, paints and coatings, and personal care industries. It manages many supply chains that contain dangerous goods requiring careful climate control.
On top of safety, chemical shippers and their service partners must also consider the integrity of the chemicals. "Humidity and temperature control affect yield and shelf life," Wright says.
Measures to prevent accidents and protect chemical products include employee training, facility design, equipment choice, and technology deployment.
"Rinchem's warehouses and transportation fleet are temperature- and climate-controlled, and real-time monitoring allows us, the manufacturer, and the end user to ensure that all materials remain within specifications at all times," says John Fitzsimons, the 3PL's vice president, operations.
"Rinchem's new facilities are designed so that the building acts as its own containment in the event of a spill, and nothing is released into the environment," he notes. Forklifts, lighting, and other equipment in company facilities are "intrinsically safe"—designed not to emit energy that could ignite volatile chemicals.
Safety First
Safety is also a primary concern at C.H. Robinson, which handles bulk chemicals , plus other liquid bulk commodities , through its ChemSolutions business.
Safety was paramount from the time ChemSolutions became a distinct business unit. "We understood that we needed to focus on safety above and beyond what we do for other verticals," says Nathan Buelt, general manager of ChemSolutions and coordinator of its Responsible Care programs.
While safety is important in all logistics operations, "there's a difference between loading chemicals onto a truck or into a tank, or loading cardboard boxes," Buelt notes.
Because safety is so critical, many carriers, 3PLs, and shippers that work with chemicals participate in Responsible Care, a program developed by the ACC, whose guidance includes the Responsible Care Management System, the Security Code, the Process Safety Code, and the Product Safety Code.
The Product Safety Code is of special interest to logistics professionals because it focuses on sharing information with partners all along the supply chain, says Debra Phillips, the ACC's vice president of Responsible Care.
For example, Element 9 of the 11-section code addresses communications, cooperation, and outreach. "It covers customers, contract manufacturers, carriers, distributors, and 3PLs cooperating to share and manage information about the health, safety, security, and environmental performance of chemical products," Phillips says.
Working with Customers
Many chemical manufacturers qualify their carriers, distributors, and customers based on their ability to manage chemical products safely. Sometimes, a manufacturer learns through an audit that a customer lacks adequate systems for managing a particular hazmat product.
"Most companies will try to train the customer and provide additional support," Phillips says. "But if the customer still doesn't manage that product properly, they'll discontinue business."
The ACC started implementing the Product Safety Code in 2014, when members were required to put the first three elements in place. Elements 4-7 went into effect in 2015, and by the end of 2016, ACC members must attest that they have implemented the entire list. Periodically, a chemical firm must bring in a third-party auditor to confirm that it abides by the terms of the Product Safety Code, along with the other elements of Responsible Care.
ChemSolutions maintains Responsible Care certification and also goes above and beyond those principles to guarantee safety, Buelt says. For example, it has built controls into its transportation management system (TMS) to ensure that employees don't work with certain shipments unless they've had the proper training.
Some C.H. Robinson employees take training called HSSE (Health, Safety, Security, and Environment) awareness, and then take an assessment to show they've absorbed the information. "A completed assessment links directly to our TMS to flag the employee as having accurate knowledge of shipments associated with Responsible Care," Buelt says.
Certain ChemSolutions employees also go through a Certified Users program. Graduates know how to communicate correctly with clients and carriers about chemical shipments, and how to spot discrepancies that might cause safety problems.
Trained employees also know which chemical commodities ChemSolutions will or won't accept, based on the risk they pose. "We have excluded some commodities from our transportation offerings," Buelt says. "We make sure employees know whether we can or cannot ship a particular product, and that the carriers they want to contract have the authority to ship that product."
Another organization in the chemical industry that has developed safety standards is the National Association of Chemical Distributors (NACD). Members of NACD must take part in its Responsible Distribution program, which outlines a mandatory set of safety measures.
The NACD and the ACC have shared codes and practices to make sure that their safety programs mirror one another closely. "It benefits the entire supply chain if their requirements line up with ours," says the ACC's Phillips.
Training for Safety and Security
Adhering to the industry's health, safety, and environmental standards is important, but it isn't easy, says Jeff Martin, president of HORN, a specialty chemicals distributor in La Mirada, Calif.
"We have a full-time regulatory person who handles health and safety issues, and the paperwork documenting our steps in those areas," Martin says. "It's expensive, and hazmat training takes people away from their jobs. But it would be irresponsible not to do this."
HORN distributes chemicals to end users through three divisions: Industrial, Human Nutrition, and Specialties; it also does some manufacturing. It operates 12 warehouses and distribution centers, with a manufacturing plant in La Mirada and another opening in Dallas.
Much of the safety program at EMCO Chemical Distributors in Pleasant Prairie, Wis., focuses on drivers who operate the company's private fleet. "They learn how to handle chemicals and emergency response," says President and CEO Edward Polen. "They learn what to do if there's a drum leak in a truck, and how to load and unload bulk trucks."
EMCO distributes industrial and specialty chemicals for customers that make products such as paints, personal care items, printing inks, adhesives, and household cleaners. It also blends and packages products for customers. Its fleet includes 30 power units, 25 bulk tank trailers, and about 50 box trailers. EMCO supplements that capacity with common carriers as needed.
The safety program includes collaboration with public safety agencies. "We conduct joint training with the local fire departments near our facilities," Polen says. "But you never know where a hazmat incident might occur."
If EMCO doesn't already have a relationship with first responders on site, the bonds tend to form quickly. "They're looking for as much help as they can get, just as our team is always looking for as much help as we can get," Polen adds.
EMCO provides assistance that includes the services of an in-house hazmat team, which rushes to the scene of any accident to alleviate problems related to the chemical load.
Sense of Security
Besides averting potential hazards in the everyday transport, storage, and use of chemicals, companies engaged in chemical logistics are concerned about keeping dangerous products out of the wrong hands. In the United States, for instance, companies must comply with requirements in the 2014 Protecting and Securing Chemical Facilities from Terrorist Attacks Act.
At EMCO, much of the responsibility for security rests on the trained employees who drive the company's private fleet. "They're at the truck when the delivery is being made, and at the emergency shutoff switch in case something goes wrong on a bulk load," Polen says. "When they deliver drums, they park at the dock. They go inside, unload the drums with the receiving people, get back in their trucks and leave. They have to have a view of their vehicles at all times."
Hydrite ensures security by forging long-term relationships with carriers that have proper measures in place, and enforcing common-sense measures of its own. "When the truck leaves the facility, we make sure it has a proper seal, so it can't be tampered with," Adams says.
Competing for Space
After safety and security, another pressing issue for chemical shippers is capacity. Truck drivers who transport hazardous chemical freight must maintain a hazmat endorsement on their commercial driver's license. That makes it hard to secure transportation for chemical loads in a tight market.
While capacity has been a challenge for all shippers in recent years, the need for certified hazmat drivers creates special problems for chemical shippers. "We have only about 10 carriers to pick from that play in our region," says Adams.
The high value of some of the chemicals that Hydrite ships—products bound for electronics manufacturers—also requires careful carrier choices, he adds.
The certification requirement sometimes causes problems for HORN's inbound shipments from suppliers. Many suppliers specify that the distributor must choose from a short list of approved carriers when picking up product bound for HORN's distribution centers. "When things got tight, there weren't enough drivers or units on the road," says Martin. With less available capacity, HORN had to wait four weeks to receive products that used to arrive in two.
"The suppliers inadvertently put longer lead times in play, and that forced us to carry more inventory," Martin says. "That continues today."
Attracting New Drivers
Thanks to the hazmat certification requirement, drivers who haul chemical products tend to be older, on average, than the driver population in general, says Reggie Dupré, founder and CEO of Dupré Logistics in Lafayette, La. Fewer new drivers entering the industry are interested in handling hazmat, and "that will present some challenges going forward," he notes.
Why the reluctance? Hauling hazardous and liquid commodities is simply harder than hauling other products, Dupré observes. "And the other jobs typically have shorter hauls," he adds. "Adding up all the things that chemical drivers must do presents challenges for people getting into that line of work."
Dupré Logistics focuses its services largely on the chemical and energy industries. On the chemical side, it helps producers of commodity and specialty chemicals with two categories of service—dedicated capacity, using its own fleet, and managed services, using its own and other carriers' fleets.
Three other pieces of federal regulation could also put the squeeze on capacity, according to Dupré. By December 2017, trucking companies must implement electronic logging devices (ELDs) to keep track of drivers' hours of service. The U.S. Department of Transportation has also proposed new rules that will require trucking companies to install speed limiters on their trucks, and establish a database of drivers with commercial drivers licenses who have failed or refused a drug test.
Dupré already uses ELDs and speed limiters, and it avoids problems with drug and alcohol, thanks to pre-hiring and post-accident screenings. But these new measures, as valuable as they are, could challenge other carriers they compete with for the best employees. "The effect will be a decrease in the number of drivers," Dupré says.
For an asset-based 3PL serving the chemical industry, the key to the capacity puzzle is keeping enough qualified drivers on staff. That's Rinchem's strategy. "Rinchem offers above-average pay, great benefits, and a work-life balance that appeals to many drivers, allowing us to maintain our fleet," says Fitzsimons.
At Dupré Logistics, the key to maintaining hazmat capacity includes a training program for drivers who currently haul petroleum or other commodities for the company. "We school drivers for anywhere from four to eight weeks," says Dupré. "Then we oversee their work in short-haul movements, to prepare them to go out on long hauls."
The company also has a program aimed at drivers who work for Dupré's partner carriers. "We bring in a few drivers who have worked over the road and teach them how to haul liquid chemicals," Dupré says.
The pool of available drivers isn't the only factor that makes capacity a challenge for chemical shippers. The need for specific equipment, such as tank trucks, hopper trucks, and specialized rail cars, also poses a challenge, says Glenn Riggs, senior vice president, corporate logistics operations and strategy at Odyssey Logistics & Technology, in Danbury, Conn. When the load calls for temperature control, finding an appropriate trailer can be tough.
"There's good capacity in refrigerated transport," Riggs says. "But you can never commingle hazardous materials with food. A hazardous material that needs to stay cold has to move in hazardous-acceptable refrigerated equipment to match it." Shippers and their partners get the job done, but it's not always easy.
Actually, the capacity crunch for chemical shippers has eased up a bit, now that a softening energy market has reduced deliveries into the oil fields. "We've seen a number of drivers come back from oil and gas into chemicals," says Buelt. Optimistic growth forecasts, such as the one from the ACC, are also attracting drivers back to the chemical industry.
"It may not provide the revenue they made when they were in the oil fields," he says. "But it's consistent, and more likely to get them home."
The transportation tug-of-war between the energy and chemical industries could shift one way or another after the November 2016 elections, depending on how the new president and Congress feel about building energy pipelines. A bigger pipeline network means less competition for space in liquid bulk rail cars. "Then that rail capacity may come back to the chemicals," says Buelt.
While the capacity crunch might have eased for now, the factors behind it—such as the aging driver population—haven't gone away, says Mike Challman, vice president, North American operations at CLX Logistics in Blue Bell, Pa. Chemical shippers still need to consider alternative ways to move their freight.
"Put shipments on rail when you can," he tells customers. "Consolidate loads so you need one truck instead of two. Those challenges will exist for a long time."
As they deal with safety, security, and capacity challenges, chemical shippers are getting a boost from new technologies. For example, TMS tied to telematics such as GPS devices, provide visibility into the progress of shipments. "We know when the truck enters the customer's facility and when it leaves," says Adams.
GPS technology and mobile phones help EMCO better manage its private fleet. "We keep in touch with drivers in case we want to change what they're doing, or if they encounter a problem," Polen says.
Benefits of ELDs
Because they include GPS devices and wireless communications, ELDs provide distinct operational and customer service advantages, along with their safety benefits, says Mike Forbes, senior vice president, logistics solutions at Kenan Advantage Group (KAG).
An asset-based transportation and logistics solutions company based in North Canton, Ohio, KAG started implementing ELDs about 12 years ago, "basically for safety and hours of service compliance," Forbes says.
Then the company started integrating data from the ELDs into its dispatching and customer service operations. "The key is turning that tremendous volume of data into information to help you become more efficient within your own business, and help your customers become more efficient."
TMS prices are dropping, putting them within reach of smaller chemical shippers such as HORN. The company's own TMS helps it find the most appropriate carriers for its commodities in particular lanes.
With the volume of chemical shipments on the rise, handling the product safely, securely, and efficiently will be more important than ever in the coming years.