Career Solutions: Closing the Talent Gap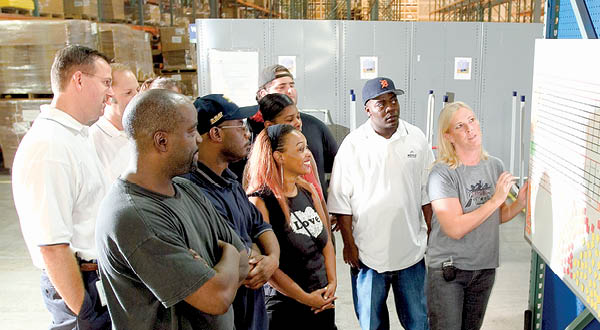 With an eye toward the looming logistics labor shortage, some companies are working studiously to attract millennials.
More to the Story:
Despite the struggling economy and high unemployment rates, skilled logistics professionals are in high demand. The U.S. logistics sector is expected to create more than one million job openings between 2013 and 2016, according to the U.S. Department of Labor.
"The economy may be struggling now, but as it recovers, more products will need to move," says Page Siplon, executive director of the Georgia Center of Innovation for Logistics, a division of the Georgia Department of Economic Development. "The more products sell, the more people will be needed to fill logistics jobs."
While projected economic and business growth is certainly good news, there is also cause for concern. Current evidence suggests the education system is not keeping pace with demand. The nation's 7,642 educational institutions currently generate 75,277 formally trained, degreed, or certified workers annually. That will fill only about 28 percent of the projected job openings each year, according to Logistics of Education and Education of Logistics, a new report from the Georgia Center of Innovation for Logistics.
"The pending logistics jobs shortfall will impact both corporate sales and revenues, and consumer costs," says Siplon.
But numbers alone tell only part of the story. Evidence also suggests that graduates emerging from college may not be as prepared as they'll need to be to tackle tomorrow's logistics jobs.
"It is difficult for education to keep up with the needs of industry, particularly logistics, because they are evolving so quickly," says Siplon. "The content has to be more current, and we need more of it." For example, only one program in the United States currently offers freight rail technical training.
Further evidence of the growing challenge: CEOs of the top third-party logistics (3PL) providers cite the talent shortage as the most significant problem they face, according to the results of the 2012 3PL Provider CEO Perspective Survey conducted by Dr. Robert Lieb at Northeastern University.
Managing Millennials
Also complicating the logistics labor challenge are issues revolving around so-called "millennials" (Generation Y, 18-34 year olds) and the unique approach to employment and work that they tend to embody.
"Millennials are tech-savvy and smart, and they know what they want," says Charlie Wilgus, general manager of manufacturing search for Lucas Group, a New York-based executive search firm that specializes in the logistics sector. "They don't want to start at the bottom; they want to start at the top. Yet the jobs that are available in logistics aren't at the top. Logistics companies need people who are willing to learn from senior employees. That makes it difficult to build bench strength."
Aram Lulla, general manager of the resources practice at Lucas Group, agrees millennials are not big proponents of starting at the bottom and working their way up the ladder. In his whitepaper, Recruiting and Managing Millennials, Lulla notes millennials also have great expectations for themselves and major demands of those around them; and they loathe authority, believe in the power of the individual, and care far more about what their friends say than what their boss thinks.
Lulla poses this question: "If millennials receive most of their validation from outside their professional network, what leverage does the leadership of a logistics organization have to shape raw talent into valuable current and future leaders?"
Fast-Tracking Talent
Potential long-term solutions to the logistics labor shortage include earlier logistics visibility in high schools and colleges, increased internships providing real-world experiences, better coordination and support for technical colleges, reduced or eliminated hurdles for military personnel transitioning into civilian life, and enhanced marketing of logistics education, according to Siplon.
Several logistics companies looking to get ahead of the talent shortage have begun to offer on-the-job training programs designed to quickly turn new-hire potential into supply chain expertise. The ability of such programs to fast-track talent also makes them more appealing to millennials.
For example, Reading, Pa.-based logistics solutions provider Penske Logistics offers a Supply Chain Leadership Program (SCLP), a challenging two-year entry-level rotational program designed to groom participants for key positions in the United States and abroad.
"In October 2010, we started thinking about how to bring into the organization new talent who would be mobile," recalls Jeff Stoicheff, senior vice president of human resources for Penske Logistics. "Business was beginning to pick up again after a terrible 2008 and 2009, but we didn't have enough talent available that we could relocate. We also wanted to begin to build the company's future leadership.
"We typically fill around 100 positions at the supervisor level each year. But instead of just hiring supervisors away from competitors, we decided to go directly to the colleges and hire graduates with supply chain backgrounds, put them in supervisory roles, then augment that on-the-job learning with solid educational classroom training."
Today, 25 people participate in the SCLP program, which allows participants to take on supervisory roles for one-year rotations in two of three logistics functions: dedicated contract carriage, distribution center management, or transportation management. Participants are required to relocate when they move between rotations. The goal is to slate participants into leadership roles within the company once they complete their two-year rotation.
"We are trying to build leaders," says Stoicheff. "The program is a balance of functional and behavioral knowledge: How to communicate, how to develop a team—all built on a foundation of our culture."
Penske definitely had millennials in mind as it developed the program, according to Stoicheff. In fact, one of the key program developers was a millennial. "Providing millennials an opportunity to learn and develop, and move their career at a quicker pace than other companies and other industries, appeals to them," says Stoicheff. "We are confident that the return will be great."
Filling the Knowledge Gap
Transplace, a Frisco, Texas-based third-party provider of supply chain software and solutions, launched a similar initiative in 2012 called the Professional Development Program (PDP). "We see a gap not in talent supply, but in talent knowledge and expertise," says Adrianne Court, chief human resources officer at Transplace. "We created the PDP to fill that gap."
Transplace's PDP has two primary objectives: to attract and hire new grads who will grow into leadership roles during the next three to five years and beyond, and to build relationships with key schools—the University of Arkansas, University of Texas Austin, University of North Texas, University of Tennessee, Iowa State University, and Penn State University—in order to tap the top minds in logistics, transportation, and supply chain education.
Transplace's PDP is a two-year rotational program in which participants take on various transportation and operational roles. During their rotations, Transplace PDP employees also participate in cross-functional special projects, working with different groups within the company and developing direct relationships with the executive team. The 3PL also ensures program participants receive an industry certification during their tenure.
Participants also must be open to relocation. "Unlike prior generations, millennials tend to not want to relocate," says Court. "Finding candidates who are willing to relocate has been a challenge. But, millennials also want to find a job opportunity with growth potential. As an employer, it is important to outline and sell the career path that our company offers beyond the entry-level job."
Reaping the Rewards
Transplace reaps many rewards from its program. "Training top-notch college graduates, and adapting them to our corporate culture, can result in a large return on investment," says Court. "They will be more likely to stay with Transplace while they grow as employees, and become familiar with the environment."
Transplace provides PDP participants a one-year guarantee. If they are not happy with the program, the 3PL assists them with networking, coaching, and resume writing to help secure another position.
Encouraging Emerging Leaders
Menlo Worldwide Logistics offers a similar program called Emerging Leaders. The San Mateo, Calif.-based 3PL works with three universities that have strong supply chain programs—Michigan State, Arizona State, and Georgia Tech—to recruit graduates. Currently in its first year, Emerging Leaders employs six people in a rotational program designed to provide exposure to various components of the company.
"We've always had a strong desire to promote from within and build good leaders," says Julie Tyler-Brown, Menlo's manager of human resources. "But with this program we've refocused. We now have renewed interest in developing talent for the future. We want to make sure we are hiring today for what we need tomorrow."
For each rotation, employees must meet a list of objectives. Participants work closely with rotation managers, and move on to a new assignment only when the manager feels they are ready. Once participants complete their rotations, which may last as few as three years or as many as five years, they can examine available positions within the company. The program may involve relocation, but it is not required.
"The core piece of the program is exposing participants to our Lean culture in all of their rotations," says Tyler-Brown. "We also want to help them understand and get engaged in the Menlo way of doing things. Future leaders need to be well-rounded and developed, not just in the technical aspect of the work, but also in how we want to operate as a company."
Menlo intends to grow the program but will continue to keep groups small enough to allow participants a good deal of hands-on development working closely with staff. "It's about making sure we hire and grow employees who are a good match for building the future of the company," says Tyler-Brown. "The program needs to drive engagement and retention, and help support future growth."
The first group of Emerging Leaders participants is already adding value to the organization. Consider Jonathan Santiago, an Emerging Leaders participant from Miami. Santiago attended Georgia Tech out of high school but soon dropped out to work full-time. A few years later, disappointed with the corporate experience, he returned to college to pursue a degree in industrial engineering. He had no exposure to Menlo previously, but was intrigued by the Emerging Leaders program.
"I was impressed by the program's concept," says Santiago. "I wanted to work for a company that cared about me personally, and this was pitched as a program providing a lot of exposure and help in developing talent. While other companies were just asking what I could do for them, Menlo's program looked like a two-way street."
Santiago's favorite part of the program is working with the organization's leaders. "I love being around leaders who are willing to teach," he says. "Menlo's managers have been very positive and willing to spend time with me. My previous experience in the corporate world amounted to a non-personal grind, but the exposure to people and talent around Menlo has been amazing."
Preparing for the approaching logistics talent shortage will require companies to take action. Competing for talent is serious business, and companies that are well-prepared are more likely to appeal to new graduates than those that are not.
"Companies doing well have a story to tell, and a career infrastructure to show new hires a growth path to the top," says Wilgus.
Being prepared also means being technically savvy. New graduates are immersed in technology, and they expect their employers to be up to speed on the latest technologies as well.
"Millennials tend to conduct a lot of research before they interview with a company," adds Wilgus. "If the company isn't using the latest technology, it simply won't be able to compete for talent."
Who's Responsible?
But it's not solely up to the companies. "Educational institutions and companies can't do it all on their own; millennials or new grads need to take on some responsibility, too," says Siplon. "Students should take it upon themselves to find resources and get educated on current industry trends."
State government should also play a role. "States need to do a better job preparing employees to keep up with the demands of the industry," says Siplon.
Georgia, for example, is working to increase the number of available trained workers by extensively investing in logistics programs from the high school level to Ph.D. programs.
Finally, educational institutions have to rise to the occasion. "We need the education community to acknowledge that supply chain management and logistics is critical to so many industries," says Siplon. "Then they need to help connect students to private industry so they can gain critical real-world experience."
The good news is, a lot of great jobs are available in logistics, and that trend looks likely to continue for years to come.
"It's a great story to tell," Siplon notes. "We just have to be able to fill the gaps."